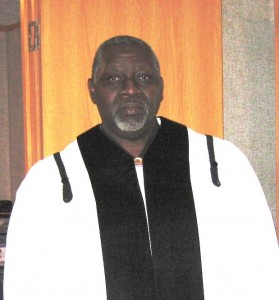 Reverend Silvan Darnell Williams, 55, was born July 11, 1956 in Princess Anne, Maryland.  He was the son of the late George E. Williams and the late Violet Mae Williams.  He went to his eternal rest on Wednesday, September 7, 2011 at University Medical Center in Baltimore, Maryland.
Reverend Williams was educated in the Somerset County Public School system.  He was a 1974 graduate of Washington High School in Princess Anne, Maryland and Wicomico County Vo-Tech in Salisbury, Maryland.  He was employed at Pep Boys in Salisbury, Maryland for 12 years as a Maryland ASE Master Technician and Maryland State Inspector.
Reverend Williams was a graduate of Christian World College of Theology, where he received an Associate's Degree in Ministry in 1999.  He was currently attending Wesley Seminary Course of Study in West Chester, Pennsylvania.
He served in several capacities throughout his ministry; singing with the Kingston Methodist Men for over 15 years, as a trustee,  lay leader, lay speaker, on the finance team, and served on the Administrative Board.   Reverend Williams was doing what the Lord would have him to do; wherever he was needed, he would gladly do it.
His first charge as a Pastor was Macedonia United Methodist Church in Dames Quarter, Maryland and St. Charles United Methodist Church in Chance, Maryland.  He was later sent to Marion Station, Maryland, a three point charge, Handy United Methodist Church, Mt. Peer United Methodist Church and Liberia United Methodist Church,  where he was currently serving as Pastor until his demise.
Faithfully, he served with compassion and a willing vessel for the Lord.  He enjoyed being that "Beacon of Light" towards his parishioners, instilling in them about God's salvation, hope, eternal life and repentance.  He encouraged them often quoting: " What you do for Christ will last, it is not about us," and Matthew 6:33, "But seek ye first the kingdom of God, and His righteousness, and all these things, not some things, but all things, shall be added unto you."
Reverend Williams had a heart for His Lord and Savior Jesus Christ.  He had a profound effect on everyone he came in contact with.  His love spread throughout his congregation, young people, co-workers, customers, District Conference, cabinet members, clergy, neighbors and friends.  It really didn't matter to Silvan whether you saved or unsaved, in the box or out of the box.  His love was without measure.  As the Bible says: "Love conquers a multitude of sins."
Loving memories will be cherished by the love of his life, his lovely wife, Evangelist Faye Paulette Wigfall Williams; one daughter, Ida Antoinette (Halimah Davis) Williams of Philadelphia, Pennsylvania; two stepsons, Shawn (Andrea) Douling of Princess Anne, Maryland; and Depree Douling and his friend Tiffany Foster of Baltimore, Maryland; five grandsons, Darnell Douling, Jr.,Malachi Williams, Shawn Douling,Jr., and Isaac Douling, of  Princess Anne and Baltimore, Maryland respectively; one uncle, Linwood Gillette of Philadelphia; one aunt, Christine Gillette; two brothers-in-law, Sherwood (Virginia) Wigfall and Bernard Wigfall of Salisbury, Maryland; one sister-in-law Valerie Kellam of Philadelphia, Pennsylvania; two devoted friends, Frank of Rumbly, Maryland and Jose of Frederica, Delaware; and a host of first cousins and other relatives and friends.
He was preceded in death by his mother, Violet Mae Williams on May 12, 2011 and his aunt Ida Mae Harris on June 11, 2011.
A funeral service will be held 1 p.m. Saturday, September 17, 2011 at Handy United Methodist Church in Marion Station, Maryland, where friends may call one hour.   Friends may also call from 6 to 8 p.m. Friday, September 16, 2011 at the funeral home in Princess Anne, Maryland.  Interment will be held at the Williams Family Cemetery in Kingston, Maryland.
Share a Memory or Thought