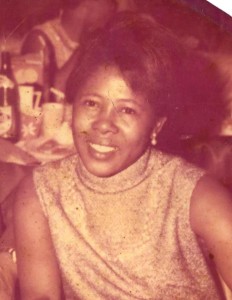 A Time To Be Born…In the words of Vietta, 72, she was born "in the second month, 20th day, '39" in Crisfield, Maryland, to the late John Bundick and Mrs. Caroline Marshall Ward.
A Time To Die…She quietly departed this life after a lengthy illness on Saturday, September 10, 2011 at Peninsula Regional Medical Center in Salisbury, Maryland.
A Time For All Seasons…Vietta attended the public schools of Crisfield, Maryland.  She married Robert Collins on May 12, 1962.
She was employed for many years as a seafood worker at Donny Gerald's Seafood Co. and was also the manager of the Crisfield Hotel for several years.  She moved to Philadelphia where she made a home and then later, returned to Crisfield, Maryland.
Vietta was a member of Highway Holiness Church and served as a faithful worker on the Usher Board and Mother Board.  For over 20 years, Vietta served as a foster parent for Somerset County Social Services, taking in children of all ethnicities…it didn't matter to her.   She was tough as nails, with a heart of gold always giving, and her famous words were, "You are not listening now, but I might be dead and gone, but you'll remember I told you this."
Affectionately called "Granny," Vietta loved her family, especially her children, grandchildren and her dogs, particularly Spotty, who ate what she ate, took the same medicine that she took; and let's not forget "bear" and now "Coco."   She told everybody that had something to say about her dogs, that "her dogs were at home and they could go to theirs."
Vietta leaves precious memories to her husband, Robert Collins; three sons, Burton A. Ward, Sr., Marco Ward and Marcus Fontaine; five daughters, Angie Disharoon, Aretha Parker, Tynisha Ward, Yvette Ward, and Margo Ward; thirteen grandchildren, Burton Ward, Jr., Nicole Ward, Sean Ward, Centeria Whaley-McCready, Keevon Bishop, TySean McCready, Adrian White, Jr., Aniyah Rawl, Xavier Rawl, LaMiera Sterling, London Noble, KeMyra Whaley and Mornita Parker; two great grandchildren, Tamirah Evans and Emaya Neal; three godchildren, Regina White, Charles Brittingham and Chelsea Brittingham; three sisters, Geraldine Jackson, Reverend Dorothy Holden, and Margaret Canterbury; special friends, Sister Mary Collins, Leana Cooper and Louise Purnell Leatherbury; one special cousin, Rosa Lee Marshall-Melendez; one daughter-in-law, Vanessa Ward; and she also leaves a host of nephews, nieces, cousins and friends.
In addition to her parents, Vietta was preceded in death by six sisters and three brothers.
A funeral service will be held 2 p.m. Saturday, September 17, 2011 at Highway Holiness Church in Hopewell, Maryland, where friends may call one hour prior.  Friends may also call from 6 to 8 p.m.  Friday, September 16, 2011 at the church.  Interment will be held at Hopewell United Methodist Church Cemetery in Hopewell, Maryland.
3 Responses to "Vietta Ward Collins"