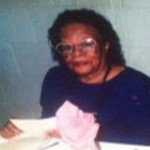 Martha Elizabeth Corbin-Mills, 94, known as "Coffey", of Princess Anne, Maryland, answered the call of her Divine Master on Thursday, November 24, 2011. 
Martha was born in Princess Anne on March 27, 1917 to the union of Jesse and Lavenia Corbin. She was the second eldest of four children.
She attended Greenwood Elementary in Princess Anne, Maryland, until the eighth grade. Martha was a life long member of Metropolitan United Methodist Church located in Princess Anne and she cared for the homes of many families in the Princess Anne community.
Martha worked at a canning factory where she met the love of her life James Mills.  On October 29, 1936 they were married at the home of Reverend Noah Brown in Princess Anne. To this union six children where born: Howard Sr., George Sr., Mary, Helen, Robert Sr., and James known as "Jimmy."
Martha committed her life to the rearing of her children. After the death of her oldest daughter Mary, Martha loved and cared for Mary's four children, Yvonne, Ida, Frank, and Mary.
Martha dedicated her life to providing a stern, yet loving upbringing for her children and grandchildren. She was a woman of calmness and wisdom. She has left a legacy of hard work, determination and kindness in the hearts and minds of her offspring. Her smile and tender laugh will be forever missed by her family and friends.
She survived by her three other children George (Isoline) Mills, Sr. of Burke, Virginia; Helen (Oliver) Smith of Salisbury, Maryland, Robert Mills Sr. of Bronx New York; daughter-in-law Rubena Mills (of the late Howard Mills Sr.) of Rockville Centre, NY; twenty-three grandchildren; thirty-five great grand children; two great-great grandchildren and a host of nieces and nephews.
Preceding Martha in death were her former husband James Mills; three children, Howard Mills, Sr., May Mills-Wilson and James A. "Jimmy" Mills;   and three siblings, Mary, Jessie and Lessie.
A funeral service will be held Saturday, 12 noon at Mt. Carmel Baptist Church in Princess Anne, Maryland, where friends may call two hours prior.  Interment will be held at John Wesley (Bowland Hill) Cemetery in Princess Anne. 
Share a Memory or Thought