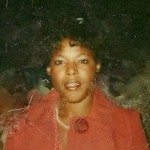 Hilda Maddox Tilghman, 64, born August 7, 1947 to the late Wesley Maddox Sr. and Florence J. Campbell, departed this life on Sunday, November 27, 2011 at Manor Care Nursing Facility in York, Pennsylvania.
Hilda was born in Grasonville, Maryland.  She was educated in the Queen Anne's County School System.  She worked in the seafood industry in Kent Narrows and Grasonville, Maryland until she moved to Crisfield, Maryland.
After moving to Crisfield, Hilda married John Tilghman Jr.  Hilda worked in the seafood industry for a little while upon coming to this area, but after receiving her Health Care Certification with "Nurses on Call" Agency, she worked in several Eastern Shore Nursing and Hospital facilities.  She later worked for Dr. Christjon Huddleston and his family for several years. She continued in the Health Care field until her health declined.
Hilda always had a conversation for you. No one was a stranger to her.   Her favorite pastime was singing, which she loved to do. Hilda kept a daily journal and she was always known to ask "Where's my book, ya'll?"   Hilda was a wonderful mother, grandmother, sister, cousin and friend.  She will truly be missed.
She leaves to cherish her memories one daughter, Tammy Maddox of Princess Anne, Maryland and two sons Lamont (Angela) Tilghman and London Tilghman of York Pennsylvania; a special niece and nephew, Tuesday Copes and Christopher Forbes who she raised as her own; seven grandchildren; Tonto Jr., Taneka, Travis, Nicole, Keon, Mustafa, and Jonnae; one uncle, Harvey Campbell of Grasonville, Maryland;  and one aunt, Gladys Campbell of Crisfield, Maryland; four brothers, John Davis of Washington, DC, Wayne Hines of Baltimore, Maryland, Wesley Maddox Jr.  of Wilmington, Delaware and Johnny Maddox of Crisfield, Maryland; four sisters, Portia Hines of Woodbine, New Jersey,  Agnes Johnson of Waldorf, Maryland, Ella Louise Campbell and Jean Campbell-Marshall  both of Crisfield, Maryland; one special friend, Bessie Jenkins of Port Norris, New Jersey; several, nieces, nephews, cousins and friends. 
Hilda was preceded in death by her husband, John Tilghman, Jr.; and three siblings Jennifer Johnson, Harvey Maddox and Shirley Campbell.
A funeral service will be held Saturday, December 3, 2011 at 1:00 p.m. at Highway Holiness Church in Hopewell, Maryland, where friends may call one hour prior.  Interment will be held at Mt. Peer U.M.C. Cemetery in Marion Station, Maryland.
Share a Memory or Thought