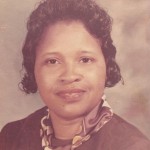 Elinor Mae Collins Fisher, 83, daughter of the late George and Bertha Collins was born November 25, 1928 in Clariton, Pennsylvania.  She departed this life on Sunday, December 11, 2011 at her home.
Elinor was educated in the Somerset County Public School System. She attended college at Bowie State University and received her Masters of Education at Temple University.  She was employed as a teacher by the Somerset County Board of Education for over 40 years.  She served as the Director of the Somerset County Head Start and Migrant Schools Programs.  She also worked as a mentor to other teachers helping to enhance students learning experiences.  She was the Parent Coordinator for the Title One Program.  After retirement Elinor volunteered at Peninsula Regional Medical Center in Salisbury, Maryland.
Elinor was a long time member of St. Mark's United Methodist Church in Oaksville, Maryland, where she served as Head Usher and Treasurer.
On May 10, 1953 Elinor was united in holy matrimony to the late William McKinley Fisher.  From this union, two children were born.
She is survived by one son, Cartier Fisher, Sr. of Oaksville; one daughter, Bernadette Fisher of Forestville, Maryland; one stepdaughter, Julia (Phillip) Garrison of Salisbury, Maryland; six grandchildren, Cartier Fisher, Jr. of Linwood, Pennsylvania, Amber Fisher of Baltimore, Maryland, Renee (Arnold) Reeder of College Park, Maryland, Sonya Jones and Valeka Garrison, both of Salisbury and Phillip (Danielle) Garrison of Windsor Mill, Maryland; eight great grandchildren; one great-great grandchild; several brothers-in-law, sisters-in law, nieces, nephews and a host of other relatives and friends.
In addition to her husband, she was preceded in death by three brothers, George, Calvin and Clarence Collins; and one sister, Lillie Polk.
A funeral service will be held 1 p.m. Saturday, December 17, 2011 at Saint Mark's United Methodist Church where friends may call one hour prior.  Friends may also call Friday, December 16, 2011 from 6 to 8 p.m. at the church.  Interment will be held in the church cemetery.
Share a Memory or Thought