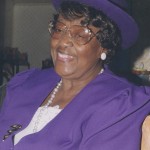 Evelyn Catherine Wells was born on January 19, 1921 in Rehobeth, Maryland to the late Samuel and Emma Mills. She was married to the late Curtis Wells for more than 50 years. Evelyn departed this life on Monday, December 19, 2011 at Peninsula Regional Medical Center in Salisbury, Maryland.
Evelyn was educated in the Somerset County School system. She was baptized in Christ M.E. United Methodist Church, in Rehobeth, Maryland where she was an active member. In the late 1960's, she joined Saint Mark's United Methodist Church in Oaksville, Maryland where she was a member of the Daughters of Good Cheer, Usher Board, and Ladies Auxiliary. She was also a member of a local community choir known as the Gospel Associates.
After years of working in the fields, in the sewing factory, and in a very cold environment at a packing company, Evelyn developed rheumatory arthritis.  It didn't stop her as  she loved to drive to Pocomoke, Marion Station, Crisfield, and other places around town looking for her favorite foods.  Over the years, Evelyn's arthritis became worse and she stopped driving and her new favorite past times were listening to gospel music, talking on the phone, and watching the weather channel.  In 2008, Evelyn became a resident of Manokin Manor Rehabilitation and Nursing Center, due to her inability to walk and be independent.
Evelyn leaves to cherish fond memories six daughters; Gladys Hall, Audrey Brooks (Wendell), Lillian Wells, and Mattie Wells, all of Princess Anne; Veronica Burrell of Claymont, Delaware; and Clementine Wells of Orlando, Florida; one sister, Bernice Brady (Dennis, Sr.) of Princess Anne; eleven grandchildren, thirteen great-grandchildren, fifteen great-great grandchildren and a host of nieces, nephews, and other relatives.
In addition to Evelyn's parents and husband, she was preceded in death by nine sisters and brothers; and four grandchildren.
A funeral service will be held 11 a.m. Saturday, December 24, 2011 at Saint Mark's United Methodist Church in Oaksville, Maryland where friends may call one hour prior.  Friends may also call Friday evening from 6 to 8 p.m. at the funeral home in Princess Anne, Maryland.  Interment will be held in the Christ M.E. Church Cemetery in Rehobeth, Maryland.
One Response to "Evelyn Catherine Wells"
Share a Memory or Thought