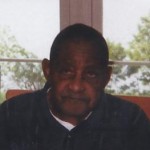 On Sunday, December 18, 2011, George Elbert "Big John" Turpin, mounted up with wings as an eagle and flew away to rest in the arms of his Lord and Savior Jesus Christ, at the age of 81, in Crisfield, Maryland.
Geroge was educated in the Marion Public School system.  He was a faithful member of Mount Peer United Methodist Church and a member of the "Methodist Men" choir until his health began to fail.  "Big John" loved it when the "Methodist Men" would come to the nursing home to sing for the patients on Thursday nights and he always sat beside his brother Melvin and sang along.
George was employed as a seafood worker for many years.  He was a member of Pride Lodge # 194.  George was united in holy matrimony to the late Julia Mae Turpin on June 19, 1971.  He was a loving husband, father, brother grandfather, uncle and friend to many.  George will be greatly missed by those who knew and loved him.
George "Big John" leaves to cherish his memory with two daughters, Deborah Thomas of Salisbury, Maryland and Doris Ann Gieger (Anthony) of Philadelphia, Pennsylvania; one stepson, Gregory Sutton (Shirleen) of Delaware; one brother, Melvin Turpin of Marion Station, Maryland; two sisters-in-law, Pastor Dorothy Holden and Grealdine Jackson, both of Crisfield, Maryland; three nephews Elroy, Leon and Dale; four neices, Elaine, Francena, Sarah Ann and Sheila; seven grandchildren, eleven great-grandchildren; and a host of other relatives and friends.
In addition to George's parents and wife, he was preceded in death by one son, James Edward Thompson; three sisters, Dollie Mae, Frances and Marie; and two brothers Issac and Lewis.
A funeral service will be held 1 p.m. Friday, December 23, 2011 at Mount Peer United Methodist Church where friends may call two hours prior.  Interment will be held in the Church Cemetery.
One Response to "George Elbert "Big John" Turpin"
Share a Memory or Thought