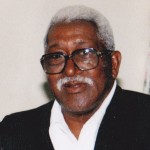 Ralph Ealie Moses, Sr., 84, was born on December 9, 1927 in Cape Charles, Virgina to the late Levin and Viola Moses and the grandson of the late Lizzie Spady.  Ralph departed this life on Saturday, December 24, 2011 at Peninsula Regional Medical Center in Salisbury, Maryland.
Moses, Uncle Snooks as he was affectionately known by family and friends, was educated in the Worcester County School System.  He went on to further his education at the University of Maryland Eastern Shore. He was baptized at Mount Carmel Baptist Church where he was an active member until his health failed.
After many years of employment, Moses retired from Maryland State College now known as University of Maryland Eastern Shore.  He loved those Maryland Hawks. and was also a dedicated member of the Oaksville Eagles.
Moses became a resident of Manokin Manor Rehabilitation and Nursing Center due to his inability to walk and be independent.
Moses leaves to cherish fond memories with his wife of 61 years, Lottie Polk-Moses of Princess Anne, Maryland, four daughters; Patricia Moses, Virginia (Marshall) Corbin, Brenda (Runcie) Dale and Victoria (Kevin) Handy; three sons, Ralph (Ophelia) Moses, Claudius (Carrie) Moses and Timothy Moses, one brother; Keith (Deborah) Moses; one sister, Geraldine Mitchell; twenty-six grandchildren, nineteen great grandchildren; five sisters-in-law; Lucille (Oliver) Jones, Jennie (Percy) Chase, Rita , Ida and Beatrice Polk all of Princess Anne, Maryland; two brothers-in-law; David (Joyce) Polk of Princess Anne, Maryland and Irving (Cynthia) Polk of Salisbury, Maryland; and host of nieces, nephews, and other relatives and friends.  He loved Dr. Reverend Elwood (Roselee) White, whom he took as his children.
In addition to his parents, he was preceded in death by four sisters, Dorothy, Thelma, Evelyn and Fannie Bea Moses; and one grandson, Ralph Ealie Moses, III.
A funeral service will be held 11 a.m. Saturday, December 31, 2011 at Mount Carmel Baptist Church in Princess Anne, Maryland where friends may call one hour prior.  Friends may also call Friday, December 30, 2011 from 6 to 8 p.m. at the church.  Interment will be held at Tindley's Chapel in Pocomoke City, Maryland.
2 Responses to "Ralph Ealie Moses, Sr."