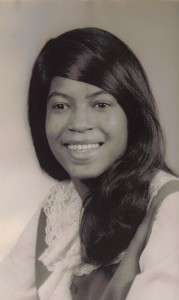 Karen Sisco-Corbin, 61, was born on October 3, 1950 in Baltimore City, Maryland to the late Wilbert and Evelyn Sisco.  Karen departed this life on Thursday, December 22, 2011 at Peninsula Regional Medical Center in Salisbury, Maryland.
Kaci, as she was affectionately known by family and friends, was educated in the Baltimore City School System.  She went on to further her education at Morgan State College.
After many years of employment with C&P Telephone Company now known as Verizon, she retired and relocated to Rock Hall, Maryland. Kaci had a love the football, fishing, reading and car racing to name a few.  Kaci was devoted to her daughter and two grandsons and a like a mother to many.  After a lengthy illness Karen returned to Princess Anne to be with family and friends.
Karen leaves to cherish fond memories with her ex-husband and friend Wordell Corbin of Princess Anne, Maryland; one daughter; Renae Corbin of Princess Anne, Maryland; one brother; Wilbert "Leon" (Gloria) Sisco, Jr. of Newport New, Virginia; two grandsons, Braden Corbin and Shawnell Jones, Jr. both of Princess Anne, Maryland; and a host of nieces, nephews, and other relatives and friends.  She also had two special cousins that she nurtured as her own, Cameron Thompson and Shane Sisco.
A funeral service will be held 11 a.m. Friday, December 30, 2011 at the the funeral home in Princess Anne, Maryland where friends may call one hour prior.  Interment services are private.
One Response to "Karen Elois Sisco-Corbin"
Share a Memory or Thought