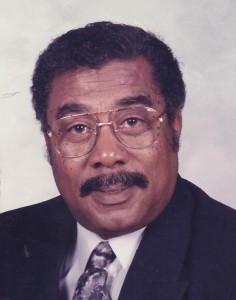 Anthony Eldridge Ward, Sr.,78, founder of Anthony E. Ward Funeral Home, of Crisfield departed this life on Thursday, March 29, 2012, at the Edward W. McCready Memorial Hospital after a lengthy illness. Born on May 31, 1933 in Crisfield, he was the son of the late Leon E. Ward and Dorothy O. Hearn-Ward.
"Spank," as he was affectionately known, was raised in Crisfield where he attended the Somerset County Public Schools and graduated from Carter G. Woodson High School in 1951. He joined the U.S. Army after graduating from high school and served for three years during the Korean War. After being honorably discharged, Anthony lived in Philadelphia, PA where he was employed at Getty Oil Refinery in Delaware City, DE.
On June 9, 1956, he married his high school sweetheart, Marlene. Anthony continued to work at the Oil Refinery as Mar-lene taught elementary school. However, against the advice of his peers, he left the oil refinery in 1959 to pursue his lifelong dream of being a mortician and enrolled in Eckel's College of Mortuary Science in Philadelphia. After graduation, he served his apprenticeship at Wilson's Funeral Home in Baltimore. In 1960, Anthony was licensed as a funeral director and embalmer in the State of Maryland and established the Anthony E. Ward Funeral Home at 11 S. Fourth Street in Crisfield. The Anthony E. Ward Funeral Home then relocated to 314 Cove Street in Crisfield. In 1989, a second funeral home location was opened in Princess Anne, MD.
In the spirit of entrepreneurship, he also operated several other businesses, including Ward's Trucking and the Broadway Lounge Nightclub.
In addition to serving as an accomplished funeral director and embalmer, Anthony made history and was elected as the first Black City Councilman in the City of Crisfield. Anthony was active in the Civil Rights Movement in the 1960's and was influential in desegregating local establishments, including sit-ins and hosting the Freedom Riders when they came to Crisfield.
He was a member of St. Paul A.M.E. Church in Crisfield where he served as a trustee and sang with the Sons of Allen Men's Choir. Anthony was a lifetime member of the Union Masonic Lodge #33 F. & A.M., the Crisfield Pride Lodge Improved Benevo-lent Protected Order Elks of the World (I.B.P.O.E.W), and the Pi Alpha Chapter of the Omega Psi Phi Fraternity, Inc.
He was an avid fisherman and hunter and held a special passion for rabbit hunting. Anthony was an avid baseball fan and played with the Crisfield Stars Baseball Team in the 1950's. He loved jazz, especially the saxophone.
Anthony will be remembered for his reputation as one of the most highly skilled embalmers in the State of Maryland, but he will also be remembered for giving his support to the community in various causes and lending a helping hand to anyone who needed it.  He will be sadly missed by all who knew and loved him.
Anthony leaves to cherish fond memories: his wife of 56 years, Marlene G. Ward of Crisfield; four children, Hope (Warren) Ward Austin of Sicklerville, NJ, Anthony E. (Denean) Ward, Jr. of Pocomoke City, Valerie (Mark) Martin of Princess Anne, MD, and Leon E. (Kendra) Ward of Crisfield; 13 grand-children, Whitney, Paige, Jaina, Chasely, Anthony, III, Le'Niya, Glenn, Jr., Alexandria, Neko, Jodi, Brittany, Joel, and Ebony; two sisters, Ann Brown of Ft. Pierce, FL and Sylvia (Howard) Ward of Salisbury; a brother-in-law, Lyle (Cordelia) Gray of Washington, DC; seven great-grandchildren; a best friend, Dr. H. DeWayne (Louise) Whittington of Marion Station; a host of nieces, nephews, cousins, other relatives, and friends.
In addition to his parents, a daughter, Antonia Jones- Carter, and a sister, Dorothy Mae Jackson, have also preceded him in death.
Two public viewings will be held Friday, April 6, 2012 from 1-3 p.m. where friends may call at Anthony E. Ward Funeral Home in Princess Anne, Maryland and also from 6-9 p.m. at St. Paul A.M.E. Church in Crisfield.  At 7 p.m. ceremonial rites wil begin by the Omega Psi Phi Fraternity, Crisfield Pride Lodge and Union Masonic Lodge 33 F & A.M. in that sequence.  The funeral service will begin on Saturday, April 7, 2012 at 1 p.m. at Crisfield High School in Crisfield, Maryland where friends may also call two hours prior.   The Reverend Bess McCallister will be the officiating pastor.  Interment will be in Hopewell United Methodist Church Cemetery in Crisfield.
In lieu of flowers, the family is requesting donations be made in memory of Anthony E. Ward, Sr. to the National Parkinson Foundation, 1501 N.W. Ninth Avenue, Miami, Florida 33136; or St. Paul A.M.E. Church P.O. Box 208, Crisfield, Maryland 21817.  Professional services are in the care of Anthony E. Ward Funeral Home and assisted by Lewis N. Watson Funeral ome, PA in Salisbury, Maryland.
2 Responses to "Anthony E. Ward, Sr., Founder of Anthony E. Ward Funeral Home"