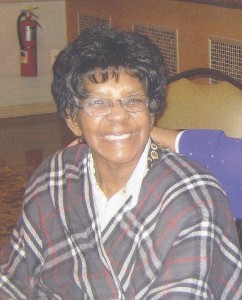 Elsie Lee Evans Potter, 82, was born on December 20, 1929 in Crisfield, Maryland to the late George and Eleanora Evans. She transitioned from earth to her heavenly reward on Monday, May 14, 2012 at Beylea Nursing Home in Lakewood, New Jersey.
Elsie was educated in the Somerset County Public Schools and was employed as a seafood worker for many years.
She was a resident of Crisfield, Maryland for over 70 years and later moved to Lakewood, New Jersey.
Elsie received Christ into her life in 2009, she loved the Lord and attending church services. She enjoyed cooking, singing and watching her favorite soap operas, especially "The Young and The Restless."   More than anything she enjoyed spending time with her grandchildren when they visited during the summer months.  Her favorite saying was "God bless you and all your family."  Elsie will be truly missed by all who knew her.
She leaves to cherish her memories with one daughter, Regina Lynn of Lakewood, NJ; two grandchildren, Maria Vaughn and Sophia Morris; three great grandchildren, Kamaria. Jamila and Essence; one niece, Ruth "Lilly" Coleman; four nephews, James Taylor, Vernon Evans, George Evans, Jr. and Anthony Evans; a host of other relatives and friends.
In addition to her parents, Elsie was preceded in death by her husband, James Potter; two brothers, Vernon Tilghman and George Evans, Sr.; and two sisters, Nellie Collins and Daisy Mack.
A funeral service will be held at 3 p.m. Saturday, May 19, 2012 at Highway Holiness Church in Crisfield, Maryland where friends may call two hours prior.  Interment will be in Hopewell U.M.C. Cemetery in Hopewell, Maryland.
Share a Memory or Thought