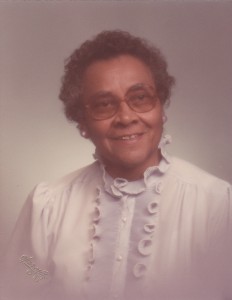 Blancia Letisha Cottman, 94, went back to The Father on Thursday, July 12, 2012, at the Alice B. Tawes Nursing home. Born on January 8, 1918, Crisfield, Maryland, she was the daughter of the late Pyeth Cornelis and Sarah Emma Collins.
Blancia was raised in Crisfield, where she attended the Somerset County Public Schools. On December 26, 1944, Rev. R.C. Huges married Blancia and Harland Ivanhoe Cottman in Pocomoke City, Maryland.
Blancia was a very active citizen in the community. She was affiliated with the Seafood Workers Union as secretary, a member of McCready Hospital Board, a March of Dimes volunteer, and a member of the Guess Who Social Club. She was a life time member of the Light Of Crisfield Temple # 86, where she held various offices including Daughter Ruler. She was a former member of the Bessie Leonard / Ethel K. Jews Council. She was also the first Black woman Councilperson of Crisfield, Maryland and was influential in desegregating local establishments during the Civil Rights Movement of the 1960.
She was a faithful member of Shiloh United Methodist Church in Crisfield, Maryland as the President of the Guiding lights choir, member of the United Methodist Women, Secretary of the Administrated Board and was always willing to do what she could to help.
Blancia leaves to mourn her son Vernel (Lynette) Cottman; two nieces Joan Sterling and Sandra Douglas, both of Crisfield, Maryland; and two nephews James (Alona) Collins of Crisfield and Vincent (Susie) Collins of Salisbury, Maryland: and a host of cousins and other relatives and friends.
In addition to her parents, her spouse, Harland I. Cottman, sister Olga C. Collins, and nephew Gary L. Collins have also preceded her in death.    
A funeral service will be held 12 noon Thursday, July 19, 2012 at Shiloh United Methodist Church in Crisfield, Maryland where friends may call two hours prior.  Friends may also call at the church on Wednesday evening, July 18, 2012 from 6 to 8 p.m.   Interment will be held at Hopewell U.M.C. Cemetery near Crisfield.
2 Responses to "Blancia L. Cottman"