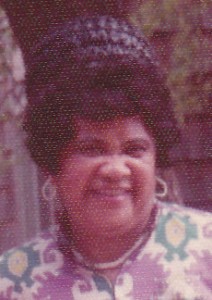 Alice Teagle-Stevenson, 90, affectionately known by many as "Aunt Alice," of Westover, Maryland, departed this life on Saturday, July 21, 2012 at Aurora Senior Living of Manokin Manor in Princess Anne, Maryland. 
Born February 19, 1922, she was the daughter of the late Robert Teagle, Sr. and Ida Bowyer-Teagle.  Alice was educated in the Somerset County Public Schools and later relocated to Philadelphia, Pennsylvania and New York where she became domestic engineer.  While in New York, she was a member of Bethel A.M. E. Church in Far Rockaway for over fifty years and was a faithful member of the Willing Worker Organization. 
Alice was married to the late Paul Stevenson and of this union, there were no children.
Alice was the primary chef for every holiday gathering and also purchased and prepared the majority of the food for the Gale and Teagle Annual Day for over thirty years.  Alice will also be remembered as an emotional supporter to anyone who had a loss or a problem, as well as one who could count on her when needed.
Over 90 years of her life, she loved many things, but none can compare to the love she experienced when she accepted Jesus Christ as her Lord and Personal Savior, allowing Him to be the Master of her life.
Alice battled many health challenges, but always encouraged and put smiles on the faces and in the hearts of many of her visitors.  Alice was a woman of wisdom, always loving to her family and friends, a one of a kind person, who lived a disciplined life. 
She leaves to cherish her memory, one sister Mother Lucy Gourdine of Brooklyn, New York; and a host of nieces, nephews, great nieces and nephews, great-great nieces and nephews, cousins and friends. 
In addition to her husband and parents, she was preceded in death by three sisters, Esther, Mae and Adele; one brother. Robert, Jr. and a nephew (like a brother), Irving Teagle. 
A funeral service will be held 1 p.m. on Saturday, July 28, 2012 at Ebenezer United Methodist Church in Marumsco, Maryland where friends may call two hours prior. Friends also may call Friday evening, July 27, 2012 from 6 to 8 p.m. at the funeral home in Princess Anne. Interment will be at the church cemetery.  
One Response to "Alice Teagle-Stevenson"