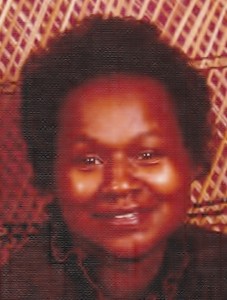 Vera Shirley Ward, 70,  of Crisfield, Maryland, departed this life on Sunday, July 29, 2012 at the Alice B. Tawes Nursing Home in Crisfield. 
"Little Bits" as she was lovingly called, attended Colins Street School until fourth grade and then Carter G. Woodson unitl the age of 17.  She moved to New Jersey for a few years and then relocated to Amityville, New York in 1962 where she worked and lived for many years.  She worked for Tapeswitch Corporation for thirty years  where she made switches for different machines.
 In 1967, she gave her life to Christ and joined Ephesus Seven Churches of God in Christ in Amityvile, where Bishop R.L. Williams was and still is the pastor.  She was the secretary of the floral committee, a member of the senior choir, a missionary, and later became assistant secretary of the Ephesus Church Sunday School. 
She was person who had a strong work ethic in both aspects of her life spritually and professionally.  During her time in the church, she loved to attend singing programs that included "The Original Loving Brothers," where her brother Charles was the drummer. She also enjoyed making a yearly pilgrimage for revival to North Carolina with some of her church members to help save souls.  "Little Bits" could often be heard joking about her weight gain to her family and friends when she came "home" to visit, "You can't call me Little Bits anymore, I'm Big Bits now." 
Her accompishments included, returning to school to receive her G.E.D., where she graduated from Kings Park High Schoool in 1978; contributed to many charities; sponsored of an underprivileged girl from a third world country; and was a beloved mother, grandmother, sister, saint and friend.
She is survived by her only child, Tina Lynette Ward-Parker, son-in-law, Anthony Parker and two grandchildren Tionna Lanae Ward and Adonis Kahlil Parker, all of Brooklyn, New York; three sisters Barbara Ward, Stephanie Ward and Elsie Ward, all of Crisfield, Maryland; six brothers, Ronnie (Francine) Ward, William (Ella) Ward, all of Crisfield, Howard (Sylvia) Ward of Salisbury, Maryland, Armstead (Georgette) Ward of Tennessee, Tyrone Ward of Baltimore, Maryland and Warren Ward, Sr. of Georgia; only living uncle, Noah (Helen) Stewart of Marion, Maryland; one aunt Magnolia Stewart of Marion;  special friends, Rudolph and Verna Taylor of Henderson, North Carolina and Lottie Jackson of Crisfield; and a host of nieces, nephews, cousins, saints and friends.
Funeral services will be held 12 noon Saturday, August 4, 2012 at Highway Holiness Church in Crisfield where friends may call two hours prior.  Interment will be held at Union Asbury United Methodist Church Cemetery in Crisfield.
Share a Memory or Thought