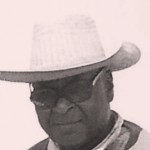 Theodore H. Spencer, 97, of Snow Hill, departed this life on Tuesday, August 7, 2012 at Peninsula Regional Medical Center. 
Born April 10, 1915, he was the son of  the late Charles Spencer and Amanda Tull-Spencer.  He was educated in the Worcester County Public Schools and was a self-employed farmer in Worcester County for many years.
He leaves to cherish his memory several nieces, nephews and a host of other relatives and friends.
A viewing will be held Sunday, August 12, 2012 from 12 noon to 6 p.m. at Anthony E. Ward  Funeral Home in Princess Anne followed by a graveside service 11 a.m. Monday, August 13, 2012 at Ebenezer United Methodist Church Cemetery in Snow Hill, Maryland.
Share a Memory or Thought