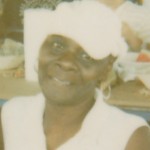 Bonnie Lea Anderson, 63, of Crisfield Maryland, departed this life on Friday, August 17, 2012 at Holy Cross Hospital in Silver Spring, Maryland.  Born in Salisbury on April 12, 1949, she was the daughter of Hilda James and Robert Anderson.
Bonnie' s favorite hymn, which she hummed daily was "Come By Here Lord, Come By Here."  She fought a long and hard battle until God said, "Job well done" and called her home.
In addition to her parents, she leaves to cherish her memories, her daughter Katrina Anderson, a niece she raised, Chardai Ford and three grandchildren Brittney, Kathia and Yancy Scott, all of Silver Spring, Maryland; seven sisters, Betty Johnson-Taylor of Randallstown, Maryland, Peggy Ann Turpin of Hyattsville, Maryland, Margaret Collins-Anderson of Lawrenceville, Georgia, Kay Frances Anderson of Princess Anne, Maryland, Dianne Wilson of Philadelphia, Pennsylvania, Doretha Burrell of New Jersey and Wanda Mumford of Princess Anne; one brother, Robert Keith Anderson of Princess Anne; an uncle, Samuel Anderson of Fruitland, Maryland; nephews, David and Martin Johnson , Charles and Kevin Turpin, Everett, Corey, Baron and Timothy Collins; nieces Nina and Karen Johnson, Karen Siewert, Gay Anne, Tina and Sherry Turpin; and a host of other cousins, nieces and nephews.
A funeral service will be held 2 p.m. Saturday, August 25, 2012 at St. Paul A.M.E. Church in Crisfield, Maryland where friends may call two hours prior.  A public viewing will be held Friday, August 24, 2012 from 2 p.m. to 6 p.m. at the funeral home in Princess Anne.  Interment will be held at Hopewell U.M.C. Cemetery in Crisfield.
4 Responses to "Bonnie Lea Anderson"