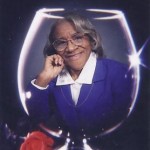 Marie Bivens, 90, of Princess Anne, Maryland, departed this life Monday, September 3, 2012 at Peninsula Regional Medical Center in Salisbury, Maryland.  Born February 7, 1922, she was the daughter of the late John Bivens and Lucy Dennis. 
Marie was educated in the Public Schools of Somerset County, Maryland and also attended Wicomico County Vocational School. She was employed at the former Swanson, Shoreland Freezers and Purity Bacon in Salisbury, Maryland. She also was employed at Paul's Kitchen in Crisfield, Maryland, and retired after 17 years of service.
Marie was a devoted mother, grandmother, great grandmother, great-great grandmother, sister, aunt and friend. She loved the Lord with all her heart. She was happy to be a member of St. Michael's C.O.G.I.C. where the pastor is Elder Ronald Deal.
She leaves to cherish her fond memories, two daughters, Mildred Bivens of Princess Anne, Maryland and Peggy Brown of Jersey City, New Jersey; three granddaughters, Tonya (Greg) Woolford and DeShawn Woolford, both of Salisbury and Keisha (John) LeGrand of Greensboro, North Carolina; one grandson, Myron (Shakia) Covington of Jersey City, New Jersey; eight great granddaughters; five great grandsons; one great great grandson; one devoted god-daughter, Rita Jones; two special friends, Louise Leatherbury and Kim Purnell and a host of other relatives and friends.
She was preceded in death by two brothers, Wilson and Robert "Bobby" Dennis; and two aunts, Mary Reed and Hattie Williams and one niece, Marie Dennis.
A funeral service will be held 3 p.m. Saturday, September 8, 2012 at Metropolitan United Methodist Church in Princess Anne where a friends may call two hours prior.  Friends may also call 6 to 8 p.m. Friday, September 7, 2012 at Anthony E. Ward Funeral Home in Princess Anne. Interment will be held at John Wesley (Bowland Hill) Cemetery in Princess Anne.
4 Responses to "Marie Bivens"
Share a Memory or Thought