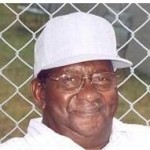 Lester O. Jones, 77, departed this life on Thursday, October 18, 2012 at Peninsula Regional Medical Center in Salisbury, Maryland. Lester was born on November 23, 1934 at Polks Road in Princess Anne, Maryland to the late Thomas and Bessie Jones.
He was educated in the Somerset County Public School System. He was employed with Warwick Laundromat in Princess Anne, Maryland for over 40 years. He was employed at the Ocean Downs Racetrack in Ocean Pines, Maryland for over 20 years, and he also held other employments for a limited time period.
Lester was reared in a Christian home.  He joined Mt. Zion United Methodist Church on Polks Road at a very young age and remained a lifelong member until the merging of the churches. Lester held many positions: Chairman of the Administrative Board, Chairman of the Trustees, member of the Mt. Zion Gospel Choir, and a member and treasurer of the Charge Methodist Men. Under the Pastoral leadership of the late Gonzalee Matthews, he became a Lay Speaker.
Lester leaves to cherish his memories, his loving wife, Bertie Mae Jones of Princess Anne, Maryland; three sons, Robert Jones, Lester Jones, and Virgil Jones, all of Princess Anne; one sister, Edna M. Smith of Georgetown, Delaware; one sister in law, Mary Jones of Salisbury, Maryland; one step son, Clarence Brown III; three step daughters, Velvet Brown, Patricia Jones Bailey both of Princess Anne and Cheryl Handy of Salisbury; a host of nieces and nephews, cousins and friends; a very special cousin whom was like a brother, Journal Jones; four step grandchildren: Ronald Corbin Jr., Daurell Jones Jr., Terron Corbin and Antonio Lee Handy, Jr. (TJ).
Lester was a loving, forgiving person who was always willing to do for others rather than having them do for him. He felt at ease with everybody. There never was a generation gap because he fitted in everywhere. Through all of his discomforts, he always smiled and would say I'm fair or I'm alright. Lester will be sorrowfully missed by all who loved him, but we know that God loves him best.
A funeral service will be held 11 a.m. Tuesday, October 23, 2012 at Mt. Zion Historical Society Church on Polks Road near Princess Anne, where friends may call one prior. Friends may also call Monday, October 22, 2012 from 6 to 8 p.m. at the church. Interment will be held at the church cemetery.
One Response to "Lester O. Jones"
Share a Memory or Thought