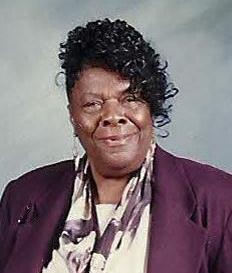 Lorraine Estella Maddox was born on August 24, 1929 in Crisfield, Maryland.  She was one of six children born to John and Sadie Johnson.  On Tuesday, November 27, 2012, she was called into eternal rest.
Lorraine was educated in the Somerset County Public School System. She later relocated to Baltimore, Maryland where she attended Bowie State Teachers College, Morgan State College and Coppin State Teachers College.  She earned a Bachelor of Arts Degree in English with a minor in History, a Bachelor of Science Degree in Elementary Education and a Master of Arts Degree in Special Education.  As God would have it, she met and married the love of her life James Russell Maddox.  Together, they pursued their dreams, supported one another's careers, and raised six children.
In Lorraine's early years, she worked in the seafood industry in Crisfield, Maryland. After graduating from college she embarked upon a teaching and administrative career with the Baltimore City Public School System for 40 years.
Lorraine was admired for her charming personality. She exuded joy, generosity, unconditional love, and inclusiveness. She loved to dance, plan family events, do crossword puzzles, watch the news, attend cultural events, and served as the family political news pundit.   She was also a staunch community service advocate who loved the theater, and was a generous scholarship donor supporting many youth involved in the cultural arts.
Her family was unequivocally the center of her joy.  She took pride in all their achievements and community service.  Knowing your history and expanding on that legacy was a process she introduced her children to.  She loved God, believed in education, raised her family to help others, and instilled in them to never forget their lineage.  To those who knew her, she was considered a pillar of the community and a surrogate mom to many.  To her children, she was an angel and the greatest mom that God could have granted. She was also a long-time member of New Covenant Worship Center where she was the Drama Ministry Director of the Creative Anointed Saints Ensemble (CASE).
Preceding her in death are John and Sadie Johnson (parents), James Russell Maddox (husband), Francine Alease Maddox (daughter), Julia Whittington and Florence Maddox, (sisters), and Robert Johnson and John, Jr. (brothers).  She also leaves to celebrate her legacy six surviving children: Kenneth Maddox, Saundra McKnight, Carlos Maddox (Joanne), Michelle Braxton (Eugene), Rosalyn Gaines, and Sharon Arnett, one sister, Norma Whittington, 10 grandchildren, 5 great grandchildren, and a host of nieces, nephews, other relatives and friends.  She also leaves to celebrate her memory two special friends, Lavania Fitzpatrick, and Beverly Reynolds.
A funeral service will be held Wednesday, December 5,2012 ,1 p.m. at New Covenant Worship Center  700 Wildwood Parkway, Baltimore, Maryland, where friends may call 1 hour prior. Interment will be held Thursday, December 6, 2012 at Waters Family Cemetery in Upper Hill, Maryland.
Share a Memory or Thought