Leon J. Bivens Jr.(Joey as he w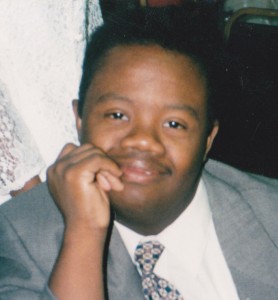 as so affectionately called) was born January 4, 1977 in Salisbury, Maryland. He fell asleep in death at home in Princess Anne, Maryland on January 9, 2013. Joey enjoyed learning new things. He atteneded Somerset County Schools and received his certificate of completion in June of 1998. This was a very special occasion for Joey because he received a plaque stating he was the most couragous of his class.
Joey loved people, especially his family and his extended family of many Christian friends and neighbors. He loved to study the Bible, laugh, dance, sing and have fun. Joey was baptized as one of Joehovah's Witnesses on October 10, 1998. This was very important to Joey and it was one of the happiest days of his life. He enjoyed sharing Bible truths with this neighbors and acquaintances. Joey loved to walk with his dad and sing songs along the way. Kingdom songs were his favorite, but Motown was very close behind. Joey loved stuffed animals; he would line them up and you could hear him having a Bible study or conducting school.
Joey is survived by his parents, Leon and Casandra Bivens, of Princess Anne, Maryland; three brothers, Marlon Bivens of Baltimore, Maryland, Brian and Justin Bivens both of Princess Anne, Maryland; a grandmother, Ronnie Mosely of Elkridge, Maryland; four uncles, George Bivens, Sr. of Crisfield, Maryland; Sylvester(Patricia) Bivens of Brooklyn, New York, and Marvin and Brent Mosely both of California; three aunts, Barbara James of Crisfield, Maryland, Gloria(Calvin) Taylor of Eden, Maryland and Jennifer Mosely of Elkridge, Maryland; one nephew, Maddix Bivens of Harrisburg, Pennsylvia; two nieces, Aniya and Canaye Bivens both of Princess Anne, Maryland, and a host of cousins and friends who were all special to Joey.
A memorial service will be held 2 p.m. Monday January 14,2013 at Kingdom Hall of Jehovah's Witnesses U.S. rt. 13 and Curtis Chapel Road in Westover, Maryland.
6 Responses to "Leon J. Bivens Jr."
Share a Memory or Thought