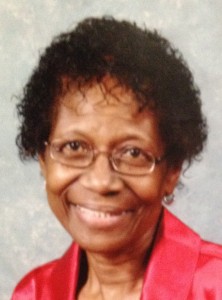 Alice Maxine Whittington was born in Monroe, North Carolina on October 19, 1943 to Austell and Irena Mae Cain.  At age 69 she entered peacefully into Heaven's gates on January 17, 2013 after a valiant fight with Cancer.
As a child her family moved from North Carolina to Philadelphia, Pennsylvania where she grew up with her eleven siblings.  Maxine later met the love of her life, Wallace Whittington of the Eastern Shore, Maryland, and they wed on April 15, 1966.  Of this forty-seven year union six children were born: Kathy (deceased), Cheryl, Kimberly, Wallace Jr. (deceased), Gregory and Michael.
Maxine worked for Sherwin Williams for thirty-five years before she retired to do what she enjoyed most, spending quality time with her family. Maxine had also been a dedicated member of Waters Chapel United Methodist Church in Marion, Maryland since the mid 1980's. Maxine was a faithful and committed servant to the Lord and her church, serving wherever needed until her illness prevented her from participating.
Maxine was a dedicated wife, mother, sister and friend. She had a sweet and simple demeanor that won the trust and hearts of many.  She was quick to listen, slow to speak, and slow to anger. She often put the well-being of her family before her own.  She loved to read, laugh, joke around, watch game shows and play with her grandchildren.  Her contagious smile and nurturing love will never be forgotten.
She leaves behind to cherish her memory, her beloved husband of almost fifty years Wallace Whittington and four children: Cheryl (Fredrick) Simpson-Moore of Princess Anne, Maryland, Kimberly Dansereau (Stephen) of Marion, Maryland, Gregory (Courtney) Whittington of Augusta, Georgia and Michael (Jennifer) Whittington of Honolulu, Hawaii.  Maxine is also survived by her thirteen grandchildren: Trevor Dansereau, Cherelle Simpson, Chelsea Simpson, Hassan Cansler, Trey Dansereau, Cedrick Moore, Aaron Whittington, Aaliyah Whittington, Taylor Whittington, Alyssa Whittington, Anthony Williams, Kennedy Whittington and Tyler Whittington and one great-grandchild Rickelle Simpson-Henry.  Maxine is also survived by one sister and two brothers (all off Philadelphia, Pennsylvania): Betty Mangum, Howard Cain, Walter Cain and a host of nieces and nephews.
Maxine was a great wife, mother, sister and friend and she will forever be greatly missed by all who knew her.
A funeral sevice will be held 1 p.m. Saturday, January 26, 2013 at Shiloh United Methodist Church in Crisfield, Maryland where friends may call two hours prior. Interment will be in Liberia United Methodist Church Cemetery in Marion Station, Maryland.
7 Responses to "Alice "Maxine" Whittington"
Share a Memory or Thought