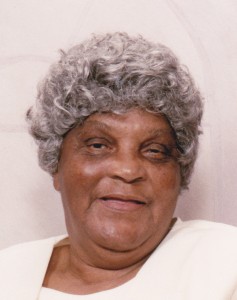 Clara Mae Fisher, 87, was born March 14, 1925 to the late Walter Green and Annie Spence.  She departed this life to be with the Lord on January 25, 2013 at her home.
Clara Mae was educated in Somerset County Public Schools.  She was united in holy matrimony to the late Hayward John Fisher, Sr. She was the mother of James Green, Annie Fontaine (Clarence), Rita Harmon, Jacquelyn Fisher and Hayward John Fisher, Jr.
She accepted the Lord at an early age and was a faithful member of Charity Holiness Church in Crisfield, Maryland until she became ill. Clara Mae worked at as a seafood worker in her early years and later worked in manufacturing for several years with Rubberset Company, a division of Sherwin Williams.
Clara Mae was devoted to her family and committed to seeing them succeed.  Her house was known to many as a safe haven and a place of refuge often filled with laughter.  She always accepted visitors and never turned anyone away.  She enjoyed shopping, talking on the phone to her best friend and traveling. She was always on the go, whether it be near or far.
Clara Mae leaves to cherish her memory: One sister, Thelma Johnson of Charlotte, North Carolina; one step daughter, Angel Handy of Crisfield, Maryland; nineteen grandchildren; one step granddaughter;  thirty great-grandchildren; four step great grandchildren; five great-great grandchildren; and a host of nieces, nephews, cousins and friends.
She was preceded in death by one daughter, Bernetta; one sister Martha; four brothers, Johnny, George, Marion and Joe and several step brothers and sisters.
A funeral service will be held 1 p.m. Saturday February 2,2013 at Highway Holiness Church in Crisfield, Maryland where friends may call two hours prior.  Interment will be at the family cemetery near Crisfield.
3 Responses to "Clara M. Fisher"