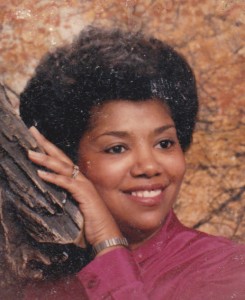 Frances M. Leatherbury, daughter of Etta Beckett and the late Charles Beckett, Sr., was born in Chance, Maryland on October 12, 1946. God gently called Frances to her heavenly home on Sunday, March 24, 2013 at Peninsula Regional Medical Center in Salisbury, Maryland.
At an early age, Frances accepted Jesus Christ as her personal savior and joined St. Charles United Methodist Church in Chance.  She received her formal education in the Somerset County Public Schools System.  On December 11, 1965, Frances was joined in holy matrimony to the late Lt. Colonel Ernest J. Leatherbury, Sr.  From this union, three sons were born.  Frances was employed for many years at the Somerset County Departmeent of Social Services from which she retired.
A devoted mother and grandmother, Frances loved her family dearly.  More than anything, she enjoyed spending time with her family and friends traveling.
Frances was preceded in death by two brothers, Charles, Jr. and Rev. Noah Beckett, and one sister Martha Cephas.
In addition to her mother, she leaves to cherish fond memories three sons, Ernest, Jr. (Michelle), Eric, and Franklin Leatherbury; five grandchildren, Marquis, Ernest III and Shane Leatherbury, Jordan Maddox and Danera Hall; three sisters, Justina Moore (John), Viola Bivens (Carter Adolph, Sr.) and Bertha Spates (Lamont); one brother John Beckett; one sister-in-law, Helen Beckett and a host of nieces, nephews, cousins and friends.
A funeral service will be held 11 a.m. Monday April 1, 2013 at Mt. Zion United Methodist Church in Quantico, Maryland where the Rev. Lawrence Purnell, Sr. will be the Eulogist.  Interment will be at Springhill Memory Gardens in Hebron, Maryland.
4 Responses to "Frances M. Leatherbury"