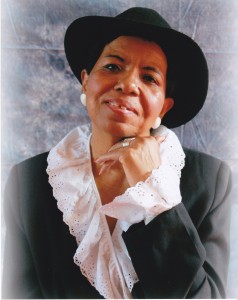 Wanda C. Ford, daughter of the late Clarence and Sara Sterling, was born on January 7, 1940 at home in Lawsonia (Crisfield), MD. She departed this life suddenly on April 3, 2013 when Jesus sweetly called her Home to be at rest.
At an early age her family migrated from Crisfield to Philadelphia. Before her mother passed away, she named Wanda, who was only 13, the "little lady of the house". Her mother appointed her with housekeeping and managing her younger brothers. By age 16, she was employed at her first job, Strawbridge & Clothier Department Store, and then worked at Spiegel Catalog. She graduated from Simon Gratz High School with an academic diploma in 1957. In 1958, she was married to Russell Ford, Sr., and out of that union was born her two beloved children, Russell and Rochelle. Sadly this marriage was dissolved and Wanda relocated back to Crisfield with her two kids.
Wanda landed employment in the Payroll department as a mainframe keypunch operator at the Rubberset Company, currently known as Sherwin-Williams. As she excelled in her job, her success was rewarded in multiple promotions and moved into Data Processing as a computer operator. She in turn also inspired, mentored and encouraged many of her colleagues along the way. She retired from her career after 35 years of loyal service.
Wanda was a Godly woman, who feared God and loved the Lord with all her heart, soul and strength. At the age of 7, she was christened, and was later baptized in Philadelphia at the Second Antioch Baptist Church, Reverend Davis DeBrady, pastor. She was a faithful steward of Union Asbury United Methodist Church, and served the Lord with gladness in prominent positions as: Usher; Treasurer of the Administrative Board; Mentor to the Church Choir, the Youth and the Community, to name a few. Wanda also loved singing hymnals to her God. Many witnessed the glow of Jesus upon her life as she served others with her sweet spirit and radiant smile. She was an inspiration to her church family.
Wanda was creative, artistic and very meticulously organized. She used these talents in her home, church, and workplace. A few of her "favorite things" included sewing, collecting famous/old coins, solving crosswords/jigsaw puzzles and cryptograms, writing poetry, and creating extraordinary drawings and paintings. She was the artist for the church and recited poems in the church. Her poetic gift of God allowed her to be part of the famous poets' society, win a poetry contest in 2007, and write beautiful poems that were published in the "Great Poems of the Western World". In addition, several pieces of her popular artwork were displayed on the walls of the local library and museum.
Wanda, a virtuous woman, was very family- and business oriented. She nurtured her kids to be independent and loved to brag on their accomplishments to her friends. Her children honored her, was very proud of her and her happiness meant the world to them. She was the caregiver to three elderly aunts and an uncle, providing medical, financial and daily living assistance. She always put even the least of those before her and gave all to help someone in need. She was a stylish woman yet loved the simple things in life. Wanda enjoyed quality time and laughter with family and friends. Her family absolutely adored her and looked forward to her hosting Labor Day family gatherings. She will be deeply missed and her living will not be in vain; her legacy will live on.
She is now amongst the "cloud of witnesses"; cheering on loved ones she left behind. She leaves to cherish loving memories: two children, Russell Ford (Rena) and Rochelle Rumber (Anthony); god-son, Torris Battle; god-daughter, Dana Sutton; three brothers, Sinclair Sterling, Leroy Sterling, and Charles Sterling; a sister, Vonzella Turner; two grandchildren, Kia Dennis and Russhell Ford, and a host of nieces, nephews, cousins and friends. In addition to her parents, two brothers, Clarence Sterling, Jr. and Robert Keyes, and grandson, Rajae Ford, has also preceded her in death.
A viewing will be held from 6-8 p.m., Friday, at the Union Asbury United Methodist Church at 3480 Freedomtown Road in Lawsonia.  There will be a two hour viewing Saturday prior to the funeral service.  The funeral service will be held at 1 p.m. Saturday at the church.  Reverend Lucille Nichols will be the Eulogist.  Interment will be in Union Asbury Cemetery.
6 Responses to "Wanda C. Ford"