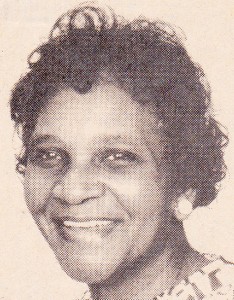 Myrtle Marie Tindley Mills, 84, departed this life on Sunday, June 23, 2013. Born on March 10, 1929, Myrtle was one of thirteen born to the late Arthur and Sallie Tindley.
Myrtle was educated in the public schools of Worcester County, where she graduated from Worcester High School in Newark, Maryland.  She was employed in various places, including Chesapeake Plywood, Inc. in Pocomoke, Maryland. During her twenty-three year tenure at Chesapeake Plywood, Inc., Myrtle was selected "Woman of the Year" for 1981. Two years later, she retired to pursue the desires of her heart and enjoy the fruits of her labor.
Myrtle received Christ at an early age.  She became an active member in her home church, Williams AME Church in Newark, Maryland.  She transferred her membership to Mount Zion United Methodist Church in Pocomoke City, Maryland where she remained a faithful servant until her demise.  Every year, Myrtle would anxiously anticipate returning to her home church on the first Sunday in May to attend Tindley Day, where she would reunite with family and friends.
Married on November 12, 1948 to the late, Wilbert Mills, Sr., their union was blessed with seven children.  Their love for one another and for family is still evident today in the respectful ways in which their children, grandchildren and great grandchildren live their lives.
An active member of Mount Zion United Methodist Church, Myrtle served faithfully and tirelessly with the Senior Choir, United Methodist Women, Fisherman's Club, Noon Day Bible Study, Tindley's Committee, Sunday School and was an avid member of the Historic Committee.  Myrtle was a descendant of the late Reverend Dr. Charles Albert Tindley, who is often referred to as the "Prince of Preachers." He educated himself, became a minister and founded one of the largest Methodist congregations serving the African-American community on the East coast.
Myrtle was a soft-spoken person who was full of wisdom and inner strength. She lived her life in the way that she encouraged others to live and that was by stepping out on faith.  She faithfully read her Bible and the Upper Room on a daily basis.  Myrtle especially loved the book of Job.
Myrtle's legacy is her steadfast faith, her unwavering belief in the power of prayer and her sincere words of encouragement.  Her pleasant demeanor, coupled with her fiery spirit, brought a touch to life to all she encountered.
Myrtle's love for the elderly was not limited to the members of her family, but to so many others who depended on her for guidance and support.  She always gave of herself unselfishly and unrelentingly until her illness hindered her from doing so.  Although inflicted with illness, she remained spiritually powerful and an example to us all by being faithful in the midst of the storm.
Favorite pastimes of Myrtle's included shopping at Peebles, watching Jeopardy and Wheel of Fortune and going to Pocomoke High School.  She loved being at the high school for almost any event and everyone knew, loved and respected her. Myrtle also loved to walk early in the mornings as long as her health permitted.
She leaves to cherish her victory:  her children—Patsy (Allie) Purnell of Snow Hill, MD, Peggy (Reverend Alonzo) Schoolfield of Pocomoke, MD, Tyrone (Lawanda) Mills of Hebron, MD, Odessa Mills of Pocomoke City, MD, Myra (Percy) Watts of Salisbury, MD and Lorrie Mills of Owings Mills, MD; her grandchildren—Kevin Purnell, Dawnne (Donald, Jr.) Robinson, Korry (Beverly) Purnell, Kim Purnell, Shawn (Angela) Elbert, Shelita Allen, Blair (Lauren) Mills, Sgt. Brian Mills, Joshua Watts and Jonathan Watts; her great-grandchildren—Dionne Purnell, Trevin Allen, Treona Allen, Deja Robinson, Kayla Purnell, Jordan Elbert, Donald Robinson, III and Jaiden Elbert; her siblings—Viola Hunter of Newark, MD, Clara Collick of Snow Hill, MD, Lula Purnell of Charlotte, NC and Yvonne Adams of Westover, MD; three adopted daughters—Marlene Harmon, Mable Holden-Jones and Kimberly Joynes; one sister-in-law, Lillian Mills and three brothers-in-law—Edward Brown, Reverend Carroll Mills and William Mills and a host of other family members and friends.
In addition to her husband, Wilbert Mills, Sr. and her son, Wilbert "Buddy" Mills, Jr., Myrtle was preceded in death by thirteen siblings:  Jeff Tindley, Elsie Harris, Shirley Tindley, Nellie Brown, Isaac Tindley, Arthur Tindley, Jr., Mildred Purnell, Nathaniel Tindley, John Tindley, Annie DeBerry, Harrison Tindley, James Tindley and John Tindley.
A funeral service will be held 12 noon Saturday, June, 29, 2013, at Mount Zion United Methodist Church located at 409 Oxford Street in Pocomoke City, where friends may call two hours prior. Pastor Joseph Purnell will be the Eulogist. Friends may also call at the church Friday evening, June 28, 2013, from 6 to 8 p.m. Interment will be in Trinity United Methodist Church Cemetery in Pocomoke, Maryland. In lieu of flowers contributions may be made to The Wilbert J. Mills, Jr. Memorial Scholarship Fund.
13 Responses to "Myrtle Marie Mills"