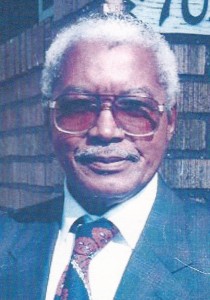 Wilson P. "Bud" Hall, 92, of Oaksville departed this life Tuesday, June 25, 2013 at Aurora Senior Living in Princess Anne, Maryland.  He was born on March 22, 1921 in Oaksville to the late Ephriam Nutter Wesley Hall and Mary C. Hall.
He was educated in the Somerset County Public School System and retired from The City of Salisbury after many years of service.  Wilson was a man of many talents and there was not too much that he could not do.
Wilson could be considered a Bible scholar after his years of study while living in Philadelphia during his youth which led him to become a long standing member of St. Mark"s United Methodist Church and the Methodist Men.  He was the catalyst behind the founding of Hall and Dorman Day celebration at his home church which is now Hall, Dorman and James Day. Wilson's desire to ask the "how come" questions also inspired the writing of the St. Mark's Church history of his great-great grandmother India Dorman James family tree and his interest encouraged a nephew to research and write about the 1933 George Armwood lynching that occurred in Princess Anne during his youth.
Upon enlisting in the military, he was sent to France.  While in the military, he received a Good Conduct Medal, European African Middle Eastern Theatre, Asiatic Pacific and World War II Victory Ribbon.
Wilson was a former member of legendary Oaksville Eagles Baseball Team. He continued his affiliation with Oaksville by becoming an honorary member of the Oaksville Community Club, Inc., an organization which restored the old community baseball field.  He was a past member of the Somerset County Branch NAACP.  Wilson loved gospel singing and always kept a smile on his face.  He was a man with many names including "Uncle Bud", "Bud", "Cousin Bud", and "Uncle Purcustis" as he was affectionately called.  His greatest attribute was to always be willing to help anyone in need if he was able.
Wilson leaves to cherish fond memories with his wife of 64 years, Odessa M. Hall of Princess Anne, Maryland and daughter, Pearl Cochran of South Carolina.  He is also survived by two sisters, Ethel Melton, Philadelphia, PA and Rosie Hall Randolph of Harrisburg, PA, a brother, Milford Hall also of Philadelphia, PA.  To additionally cherish his memories are his grandchildren, great grandchildren, a host of nieces, nephews, cousins and a very special cousin that was like a brother, William Stewart; and riding partner Randolph "Smit" Cottman.
In addition to his parents, he was preceded in death by his son; two brothers, Milton Hall (Dorothy), Charles Hall (Beatrice); two sisters, Beatrice Corbin (Jacob) and Lettie Deshields.
A memorial service will be held Saturday 1 p.m. June, 29, 2013 at Saint Mark's United Methodist Church in Oaksville.
Share a Memory or Thought