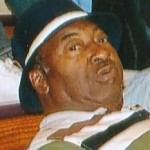 Donald Lee Fitchett, 68, of Crisfield, Maryland, went to be with the Lord on Wednesday, June 26, 2013 at his residence.  Born December 7, 1944 in Marumsco, Maryland to the late Roy L. and Eunice E. Fitchett.
Donald was educated at Marion Elementary and Carter G. Woodson School.  Donald proudly served his country in the United States Army in the Vietnam War.
Donald Lee was at the forefront of the trucking industry.  Not only was an Independent business owner, but also a faithful employee with several trucking companies, including those owned by Anthony E. Ward and James Whittington.
Donald Lee's other business ventures were serving as a bus driver for Somerset County for several years and working in the vault and burial business.  Donald used his skills from the truck and bus industries to assemble and disassemble a wide variety of products and equipment.
He was a very kind and a good person who would do anything for anyone in need.
He leaves to cherish his memories with his wife Frances Bishop-Fitchett; four daughters, Katrina Anderson of Silver Spring, Maryland, Angelique Bishop Ward (Frank) of Pocomoke City, Maryland, Letitia Fitchett and Tamara Ward, both of Crisfield, Maryland; one step-son, William Maddox (Latesha) of Sandy, Utah; one brother, James Rhodes (Velma) of Philadelphia, Pennsylvania; two sisters, Joyce Fitchett of Crisfield and Marietta Douglas of Pocomoke City; eleven grandchildren; five great grandchildren and a host of nieces, nephews and three special friends, George Bowyer, Lewis Blackwell and Daniel Collins.
He was preceded in death by one sister, Henrietta B. Fitchett.
A funeral service will be held 11 a.m., Friday July 5, 2013 at Highway Holiness Church in Crisfield where friends may call one hour prior. Reverend Thomas Fitchett will be the Eulogist. Friends may also call 6 p.m. to 8 p.m. Thursday, July 4, 2013 at the church. Interment will be at Ebenezer United Methodist Church Cemetery in Marion Station, Maryland.
Share a Memory or Thought