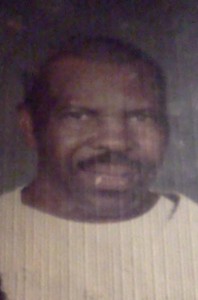 Herman Charles Kenney, also known as "Bear", 81, of Crisfield, Maryland, departed this life for a better home in glory on July 2, 2013 at Harrison Senior Livining of Snow Hill in Snow Hill, Maryland.  He was born on April 8, 1932 to the late Burris Kenney and Bertha Beauchamp Kenney.
He received his education in Somerset County Public Schools. During his early years he was employed with Anderson Fence.  Throughout his career he worked in the seafood industry, industrial work and at Manokin Manor in Environmental Services from which he retired.  He was a member of Pride Lodge #194.
Herman, or Uncle Barry as many called him, was a non-verbal man, but when he did speak you knew he meant business.  He was very caring of others and loved his family more than anything.
Herman leaves to cherish loving memories with a very speical friend of over 30 years and the mother of his children, Charmaine Peyton; two children, Calandra Kenney (Ryan, Sr.) and Antwan Kenney; one stepson, Thomas Peyton, Sr; five grandchildren, Ryan, Jr., Rykell, RyNaijah,RyNiah and Tarhon; one sister-in-law, Annie Kenney; nine nieces, Delois Braxton, Gwendolyn Kenney, Dorothy Miles, Sprigena Kenney, Darlene Bowser, Utricia Hayes, Ellen Dashields (Pete), Annette Kenney and Jacqueline Kenney; eight nephews, Harold Stokley (Equilla), Stanley Johnson (Zelda), Robert Kenney, Jr., Charles Kenney, Nkrumah Kenney, John Kenney, Abraham Kenney (Justine) and Vernon Kenney; and other close relatives in New Jersey, Baltimore and Virginia.
He was preceded in death by three brothers, Robert Kenney, John Kenney and Brodus Williams; two grandchildren, Rykell LaRyn and Rynye' Waters; one aunt, Carrie Anderson; and one uncle, Noah Beauchamp.
A funeral service will be held 1 p.m. Friday, July 12, 2013 at Highway Holiness Church in Crisfield, Maryland where friends may call one hour prior. Friends may also call at the church from 6-8 p.m. Thursday July, 11,2013. Interment will be private.
One Response to "Herman Charles Kenney"
Share a Memory or Thought