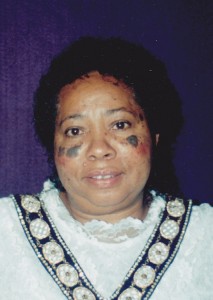 Ella Louise Sterling Ward, 71, of Crisfield, Maryland, the beloved daughter of Marvin Sterling and the late Edna Johnson was born January 19, 1942 in Marion Station, Maryland.  Ella departed this life on Monday, July 8, 2013 at Peninsula Regional Medical Center in Salisbury, Maryland.
"Sissy" as she was often affectionately called by her father, and the late Aunt Delsie and Uncle Money the couple who raised her from a young child.
Ella received her early childhood education in the Somerset County Public School System; then later became a loyal employee in the Seafood Industry before moving on to pursue employment at Mrs. Paul's Kitchen, The Carver Hall Company, and finally The Sherman Williams Company from which she retired in 2003.
In later years, Ella returned to the Union Asbury Church in Lawsonia, Maryland, she remembered from her childhood; she served as a choir member and was always eager to serve whenever needed.
Ella "Sissy" leaves to cherish her memory: her father, Marvin Sterling who now resides at Alice Byrd Tawes Nursing Home in Crisfield, Maryland; her husband, William Ward; two daughters, Elaine Howard of Virginia Beach, Virginia and Sheila Fisher of Pocomoke City, Maryland; two sons, Joseph James and Lawrence James, both of Crisfield, Maryland; one granddaughter; one sister, Dora Stokes of Charlotte, North Carolina; six grandchildren, eleven great grandchildren, several great-great grandchildren, one daughter-in-law, Roxanne James; two sons-in-law, Robb Howard and Samuel Fisher; one brother-in-law, Wes Stokes of Charlotte, North; several other in-laws, and a host of nephews, nieces, family, and friends.
She is preceded in death by one son, Larry Darnell Sterling "Button" and three sisters, Jean Sterling, Dorothy M. Johnson-Flowers and Elisteen Sterling.
A funeral service will be held 11 a.m. Saturday July 13, 2013 at John Wesley United Methodist Church in Marion Station, where friends may call one hour prior. Reverend Lucille Nichols will be the Eulogist. Friends may also call 6-8 p.m. Friday July 12, 2013 at the church. Interment will be in Mount Peer Cemetery in Marion Station.
4 Responses to "Ella L. Ward"