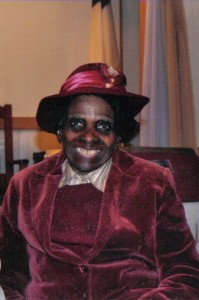 Odessa Mae Hall, 82, of Oaksville departed this life Friday August 9, 2013 at  Aurora Senior Living in Princess Anne, Maryland. Born Mach 2, 1931 in Philadelphia, Pennsylvania, she was the daughter of the late Virgie V. King Miles and stepdaughter of the late Arthur Miles.
At age 7, Odessa moved to Oaksville. She confessed her faith at an early age and joined Saint Mark's United Methodist Church. She was a member of Saint Mark's for 75 years, triumphantly never wavering in the Christian faith of Jesus Christ; Odessa was a member of the United Methodist Women and she sang with a gospel group directed by Elinor Hall Conway at Saint Mark's.
She enjoyed praising the Lord through song and dance. She always displayed a beautiful smile during Praise and Worship Service as she magnified the Lord. ( My soul doth magnify the Lord") Luke 1:46.
Odessa graduated from Greenwood High School. In 1949, Odessa and Wilson P.( Bud) Hall were blessed by joining in Holy Matrimony by Reverend Ervine Hargis that lasted 64 years.
Odessa is survived by her daughter, Pearl Cochran; a granddaughter Sojeta Cochran, both of South Carolina; twin sister Rovella P.( Randolph) Cottman of Princess Anne; one brother Samuel L. (Barbara) Miles of Chesapeake, Virginia; two sisters in law, Ethel Melton of Philadelphia, Pennsylvania and Rosa Hall Randolph of Harrisburg, Pennsylvania; a brother in law, Milford Hall also of Philadelphia, Pennsylvania, and a host of nieces, nephews, cousins and friends.
A funeral service will be held 11 a.m. Saturday, August 17, 2013 at Saint Mark's United Methodist Church in Oaksville where friends may call one hour prior. Reverend Ronald Bell, Sr. will be the Eulogist.  A viewing will also be held 1-6 p.m. Friday, August 16, 2013 at the funeral home in Princess Anne. Interment will be in the Oaksville Cemetery.
Share a Memory or Thought