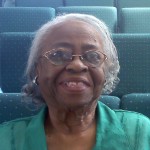 Luvenia Sophoma Douglas,  77,  of Crisfield, was born October 25,1935 in Kingston, Maryland to the late Raymond H. Kersey Sr. and Jennie Whittington Kersey.
After high school graduation she attended Cortez Peters Business School in Baltimore, Maryland.
Luvenia met and married the late Aaron L. Douglas Sr. and continued in this marriage until her husband passed. From this union, were four children.
Luvenia was a seafood worker for many years. She also worked at Sherwin Williams. Luvenia had a heart for children and worked for the Crisfield Head Start as a Foster Grandparent.
Luvenia was a member of Waters Chapel in Kingston, Maryland. Luvenia became a faithful member of St. Paul A.M.E. Church in Crisfield, Maryland. She served in many capacities in the church including the Choir, Sunday School Superintendent, Missionary Society, Steward Board and the Progressive Club. Luvenia's love for God gave her the desire to pursue training with the Baltimore Conference Board of Examiners for a license for local Deacon. She was never ashamed of the Gospel of Jesus Christ. She preached and always sang praises to the Lord.
Luvenia was affectionately called "Vennie" by those who loved her. Before her illness Luvenia was always available to respond to anyone in the community that had a need.
On Tuesday, August 27, 2013 the lord called Luvenia home. Luvenia leaves fond memories to be cherished by: her children, Felisa Douglas Games (Edwin-deceased) of Crisfield, Aaron L. Douglas, Jr. (Akiko) of Philadelphia, PA and Rodney S. Douglas of Crisfield; one beloved sister, Victoria Hawkins (Earlie) of Kingston, Maryland; three devoted brothers, Raymond Kersey (Irene) of Hampton, VA, Bobby Kersey and Earnest Kersey (Thelma) of Kingston; five grandchildren, Anitra, Eboni (William, Jr.), Edwin (Dawn), Aaron and Ashanti; eight great grand children and a host of nieces, nephews and other relatives and friends.
In addition to her husband and her parents, she was preceded in death by one step daughter, Marcia Douglas Yarborough.
A funeral service will be held 12 noon Monday, September 2, 2013 at Saint Paul A.M.E. Church in Crisfield with a viewing two hours prior. Reverend Bess McCallister will be the Eulogist. A viewing will also be held Sunday 1-6 p.m. at the funeral home in Princess Anne. Interment will be in Hopewell Cemetery in Crisfield.
3 Responses to "Luvenia S. Douglas"
Share a Memory or Thought