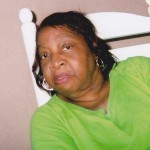 Bertha A. Worthy, 72, of Oaksville, Maryland, the daughter of the late Littleton Thomas King, Sr. and Sarah "Etta" King, Bertha A. Worthy departed this life on Friday August 30,2013 in Manokin Manor in Princess Anne, Maryland.
Often called Bay-Bay or "Aunt Bert" she was a very plain person, but to know her was to love her, each one on his or her own way. She was a very direct and straight forward person, if you didn't want to know then it was best not to ask her.
She did not have any biological children, but had six God- children, Tia Walston, Robin Fields, Reggie Corbin,Sr., Ellis Crump, Nenie Jones and Gail Corbin all of who were always at her beckoning call. Memories will be forever cherished by her brothers, Littleton King, Jr.(Wanda) of Oaksville, John Thomas Tilghman of Princess Anne, Norman Tilghman( Patricia) of Salisbury; sisters, Bessie Corbin of Oaksville, Barbara Leatherbury and Evelyn Christy of Princess Anne; thirty-three nieces and nephews and a host of great and great-great nieces and nephews, cousins, and other relatives and friends.
She was preceded in death by one sister Mary Fields, two brothers John King and Leon Tilghman  and two nephews Rodney Cannon, Sr. and Thomas Leatherbury, Sr.
A funeral service will be held 12 noon, Saturday, September 7, 2013 at St. Mark United Methodist Church in Oaksville with a viewing two hours prior. Reverend Elmer Davis will be the Eulogist. Interment will be in Oaksville Cemetery.
Share a Memory or Thought