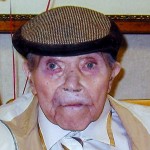 Marvin B. Sterling, 102, of Marion Station, departed this life on Thursday, September 5, 2013 at Alice Byrd Tawes Nursing in Crisfield, Maryland. He was the son of the late William F. and Alice Hall Sterling was born February 17, 1911 in Marion Station, Maryland.
Marvin received his early childhood education through elderly family members, the Civil Rights leadership, God and a strong sense of determination to self teach and learn.
Marvin had many occupations in his lifetime, the seafood and railroad industry. Mr. Sterling was an excellent tax preparer for family members, friends and locals both in the Crisfield and Marion Communities.
He leaves to cherish fond memories, several grandchildren and great grandchildren, nieces, nephews and other relatives and friends.
In addition to his parents he was preceded in death by three daughters, Jean McCready, Elisteen Sterling, Ella Ward and one grandson, Larry Darnell Sterling.
A funeral service will be held 11 a.m. Thursday September 12, 2013 at the funeral home in Princess Anne with a viewing one hour prior. Reverend Cynthia Bonneville will be the Eulogist. A viewing will also be held 1-6 p.m. Wednesday September 11, 2013 at the funeral home in Princess Anne. Interment will be in John Wesley U.M.C. Cemetery in Marion Station.
Share a Memory or Thought