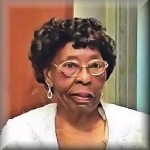 Ollie Mae Whittington Lewis, 88, of Marion Station passed away suddenly at her residence on Wednesday, October 2, 2013. Ollie was born on June 18, 1925 in Marion Station, MD, she was the daughter of the late John Wesley Whittington and Bertha Jane Waters Whittington.  She was married to the late John Lewis.
She attended Wesley Elementary and graduated from Crisfield Colored High School.  Later she attended Lankenau Hospital School of Nursing, graduating in 1970 with a Practical Nursing Degree.  Ollie retired from Lankenau Hospital in Philadelphia, PA in 1987.  Upon retiring, she accepted employment at McCready Hospital in Crisfield, MD for several years.  Overall Ollie was employed for over 50 years in  nursing.
Ollie was very active in various churches in Philadelphia and on the Eastern Shore of Maryland.  She was also very active in various church ministries in both states.
In addition to her parents and her husband, she was preceded in death by two sisters, Candace Whittington and Emily King; and seven brothers, Eldridge, Sr., Waters, Sr., Matthew, Irlond, John, Frederick and Welton Whittington, Sr.
Ollie leaves to cherish fond memories with three sisters, Thelma Green of Marion, MD, Blanche Johnson of Philadelphia, PA and Odessol Knight of Harrisburg, PA; a host of nieces, nephews, cousins, members of the Lewis family and other relatives and friends.
A funeral service will be held 12 noon, Saturday, October 12, 2013 at John Wesley United Methodist Church in Marion Station with a viewing two hours prior where friends may call.  The Reverend Cynthia Bonneville will be the Eulogist.  Friends may also call 1-6 p.m., Friday, October 11, 2013 at the funeral home in Princess Anne.  Interment will be in the church cemetery.
2 Responses to "Ollie M. Lewis"