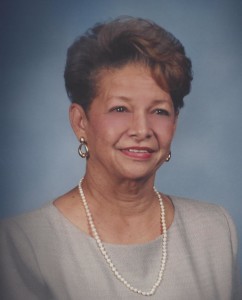 Cordelia Ross Gray, 84, of Washington, DC.  Devoted wife of Lyle W. Gray, departed this life on Friday, November 15, 2013 at Specialty Hospital of Washington after a brief illness. She was born to  Jennie Mae Gibson and Peery Nicholas Ross on June 28, 1929, in Bluefield, West VA. She had one brother Frederick Ross who preceded her in death.  In addition to her brother, she was also preceded in death by her parents. Raised during her early years by her paternal grandmother, Lela Ross, she developed a strong faith, practical life skills and an inner strength that would carry her throughout her lifetime.
She graduated valedictorian from Genoa High School in 1948, and wrote in her address,"…Our duties as students will not end now or ever.  To perpetuate the fruits of our struggles, to hold fast to our ideals through success and through failure, to concentrate our energies on the scaling of ever greater and greater heights of  learning, to employ our training in Genoa for the betterment of all mankind, all these duties are still ours as students. Students no longer of school, but students of life….." Those words would define the frame by which Cordelia directed her life's course.  She enrolled in Bluefield State, and pledged Delta Sigma Theta Sorority where she became a member of the Beta Pi Chapter, but decided after two years of study, to move to Washington DC, accepting a position with the Department of Defense as a clerk typist.  It was there she met and married Robert Weldon Craig. This union produced two children, Deborah and Robert. The marriage ended in divorce.
Always eager to learn and accept responsibility, Cordelia was quickly promoted to the position of secretary. Shortly thereafter she transferred to the Department of Health and Human Services as a Personnel Officer.  Cordelia advanced throughout her career working with the Director of Programs for the Health Resources Administration, in organizing the federal effort to increase the number of minority students in health professions, working particularly with Historically Black Colleges and Universities.  Her career which spanned over forty years achieved much recognition and accomplishment. She retired as a Program Consultant having recruited many young people to advance their career ladders within the federal government.
She enjoyed spending time with her grandchildren and continuing her community service work as a member and officer of The Young Women's League, Inc., as well as a member of the soprano section of the Metropolitan A.M.E. Church Cathedral Choir. It was during this time in her second season of life, that she met and married Lyle W. Gray, becoming a step-mother to his son Cornell. They were married for twenty-three years, sharing many precious moments together.
Cordelia loved her family unconditionally. She was generous with her heart and spirit welcoming all into her fold. She valued her friendships and was always a source of constant comfort and guidance. It was almost as if she had a crystal ball in hand   because she would predict life outcomes before you could even tell her what you wanted or needed to know. She was driven and expected not perfection, but that you would always do your very best in everything you tried to do.
She leaves to cherish her memory her husband, Lyle W. Gray; a daughter, Deborah Craig Bassard (Wayne) of Bowie, MD; a son, Lieutenant Colonel Robert Craig-Gray USAF (Fran) of Puyallup, WA; a stepson, Cornell Lyle Gray (Denise) of Manokin, MD; a grandson, Sr. Airman Wayne M. Bassard II USAF; granddaughters, Kendall Ross Bassard and Kristin Renee Bassard; grandson Trey Weldon Craig-Gray; granddaughter, Troye Nichelle  Craig-Gray; grandsons, Cornell, Brandon and Byron Gray; a loving "sister", Carol Ross; one sister-in-law, Marlene G. Ward; nieces, cousins and a host of other dear family members and friends.
A funeral service will be held  11:00 AM, Friday November 22, 2013 at Metropolitan A. M. E. Church, 1518 M Street NW Washington, DC.  with a viewing one hour prior.  Reverend Ronald Braxton will be the Eulogist.  Interment Lincoln Cemetery, Brentwood, MD.
One Response to "Cordelia Ross Gray"
Share a Memory or Thought