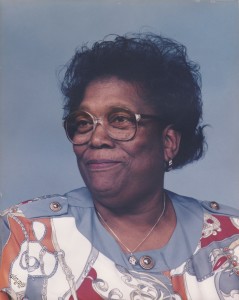 Georgia Rose Pinkett was born August 3, 1927 in Princess Anne, Maryland to the late Daniel and Martha Mills. She was a devoted wife to the late Briscoe (Bud) Pinkett for 22 years. She answered the call of her Divine Master and transitioned from this life on Sunday, December 15, 2013, at Aurora Senior Living of Manokin, in Princess Anne.
She was educated in the Somerset County Public Schools. At an early age she became a member of Metropolitan U.M. Church in Princess Anne. She later served her church in several capacities; as an usher, a Communion Steward, a member of the Homecoming Committee, and a member of the Trustee Board.
Georgia moved to Philadelphia, Pennsylvania and worked for private families. She returned to Princess Anne and was employed at Campbell Soup Company. To improve her lot in life, she went back to Philadelphia and enrolled in courses to become a nurse's assistant. After earning her Nurse's Assistant Certificate, she decided to return to Princess Anne once again. She gained employment at Peninsula General Hospital in Salisbury, where she served patients in pediatrics for 20 years until she retired from that position. Her work in pediatrics endeared her to children. This led her to work as a part-time teacher's assistant in the Somerset County Public School System for three years after her retirement from PGH.
When she married Briscoe (Bud) Pinkett, she moved to Mount Vernon. After his passing, she moved to Salisbury. When her health began to fail she was assisted greatly by Leona Hall and Nancy Harris, both of Salisbury, until she went to reside with her daughter, Rodulia (Vicky) Sutton in Temple Hills, Maryland. Due to further deterioration in her health, she was placed in the care of Aurora Senior Living of Manokin, in Princess Anne.
She leaves to cherish her memory her beloved daughter, Rodulia (Vicky)  Sutton, one son-in-law, Rossie (Joe) Sutton of Temple Hills, Maryland; one grandson, Chaka Sutton of Fort Washington, Maryland; one sister, Grace Toliver of Philadelphia, Pennsylvania; two stepdaughters, Kay Pinkett of Staten Island, New York and Nancy Pinkett-Harris and her spouse, Lester Harris of Douglassville, Georgia; one step granddaughter, Roslyn Fontaine and her spouse, Ike Fontaine of Alexandria, Virginia; one step grandson, Rossie Winder, and his spouse, Nadine, of Mardela Springs, Maryland; one great granddaughter, Heaven Sutton; five great grandsons, Rossie Winder Jr., Cameron Winder, Malik Pinkett,
Kenneth, and Christopher Harris, and a host of nieces, nephews, and other relatives and friends.
In addition to her husband, Briscoe Pinkett, she was preceded in death by four sisters, Hattie Mason, Elizabeth Mills, Hilda Brummel, and Ella Coston; three brothers, James, Douglas and Raymond Mills;  one great grandson, Chaka Sutton, Jr. and one stepdaughter, Carolena Ward.
A Funeral Service will be held 11 AM, Saturday, December 21, 2013 at Metropolitan United Methodist Church in Princess Anne with a viewing one hour prior, Rev. Ronald Bell will be the Eulogist.  There  will also be a viewing held 6-8 PM, Friday, December 20, 2013, all services will be held at the church in Princess Anne, Maryland.  Interment will be held 1:00 p.m. Monday, December 23, 2013 at the Eastern Shore Veterans Cemetery in Hurlock, MD.
Share a Memory or Thought