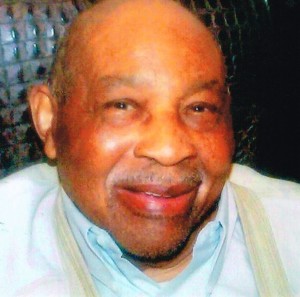 During the early afternoon on Saturday, December 21, 2013, God whispered our dear John's name and he journeyed with Him entering his eternal rest.
John Thomas Ballard, son of the late John Wesley and Margaret Ann Matthews Ballard, was born in Princess Anne, Maryland.  He was the ninth sibling out of twelve to pass.
John left home at an early age and resided in Washington, DC.  After a brief stay in DC he returned home to Westover and joined the Civilian Conservation Corps., "C.C.C. Camp".  After completing that service he was drafted into the United States Army, where he served for six years and received an honorable discharge.
John met the love of his life, Celestine Collins, they were united in holy matrimony on April 3, 1948.  Our dear God called his beloved wife home to glory after 63 years of marital bliss. To this union their were three children born. After the passing of his darling wife, Celestine on February 3, 2012, it was all downhill for him.  He struggled with her death.  The Lord our God saw fit to reunite them on December 21, 2013.
John made his career as a Baker.  He worked many years at the Krispy Kreme Donut Shop followed by Plain and Fancy Donut Shop until his retirement in 1985.
John lived a very humble life to the fullest, the way he presented himself was the way he truly was.  John was a thoughtful and kindhearted man.  All that knew him respected and cherished his friendship.
He leaves to cherish his beautiful memories with: one daughter, Diana C. Ferrell; one son, Kevin D. Ballard; one granddaughter, Amber C. Ballard; one great granddaughter, Amaya C. Glascoe; one brother, Lester J. Ballard (Hattie); two sisters, Isabelle L. Walker (Alfred) and Chestene M. Coverdale; one daughter-in-law, Jennifer D. Ballard (the late Randolph T. Ballard); nephews, nieces and a host of other relatives and friends.
In addition to his parents he was preceded in death by his wife, Celestine Collins Ballard; one son, Randolph T. Ballard and eight siblings.
A Funeral Service will be held 1 PM, Monday, December 30, 2013 at John Wesley United Methodist Church (Cottage Grove) in Westover with a viewing two hours prior.  There  will also be a viewing held 6-8 PM, Sunday, December 29, 2013, at the Funeral Home in Princess Anne.
Interment will be at the Church Cemetery in Westover.
Share a Memory or Thought