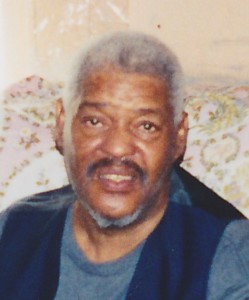 Neagrafton Martin ceased his suffering on Saturday, January 18, 2014 at Alice Byrd Tawes Nursing and Rehabilitation Center in Crisfield, Maryland after being a resident for nine years.
William Neagrafton Martin was born on December 30, 1934 to the late Oneda Ballard Stubbs in Kingston, Maryland (near Marion Station, Maryland).  When Graft (as he was known) was six weeks old he was taken to the late Charles and Queen Esther Martin's home for a   visit and they became his legal parents, the rest is history.
Graft attended the Public Schools of Somerset County and graduated from Crisfield Colored High School in 1953.  In the fall, Graft, entered the school of music in Baltimore and lived with his brother-in-law, Willard and his sister, Beathsader.  He always loved music and taught himself to play the guitar as a young boy. Graft was the lead guitar player with Al Brown's Band the " Tune Toppers", they had a hit  record on the billboard top 100 in the 1960s called "The Madison." It ranked #23. The band itself largely played the "Chitlin Circuit", which consisted of large concert halls and dance clubs that catered to the black audience and this also included the Royal Theatre on Pennsylvania Avenue in Baltimore, Maryland.
He also was employed with a printing company and as an automobile mechanic at the Water's Brothers.  During these years he was married, and to this union three children were born, Roslyn, Michael and Sharon.  The marriage ended in divorce.
Neagrafton returned home where he lived with his parents.  He was employed with the Pine's Motel and continued to do mechanical repairs in the community.  He also helped to care for his mother, until she passed.  He then moved back to Baltimore, Maryland.  In 1978, Neagrafton met his future wife, Marilyn.  Shortly afterwards he relocated back to Kingston and Marilyn later joined him.  Upon his return he worked for the Somerset County Roads Department.  On March 25, 2000, Neagrafton and Marilyn were united in holy matrimony, and to this union, three children were born, Rolicia, Rowland and Charles.
Graft will be dearly missed and he leaves lasting memories to his wife, Marilyn; three sons, Michael Martin, Rowland Martin and Charles Martin; three Daughters, Roslyn Martin, Sharon Martin and Rolicia Martin; a devoted sister, Beathsader Womble; one stepson, Delford Jimmerson (JoAnne) and other relatives and friends.
A Funeral Service will be held 11 AM, Saturday, January 25, 2014 at Waters Chapel United Methodist Church in Kingston with a viewing one hour prior, the officiating pastor will be the Rev. Frances Fitchett.  There  will also be a viewing held 1-6 PM, Friday, January 24, 2013, at the Funeral Home in Princess Anne.  Interment will be at the Family Cemetery in Kingston.
3 Responses to "Neagrafton Martin"
Share a Memory or Thought