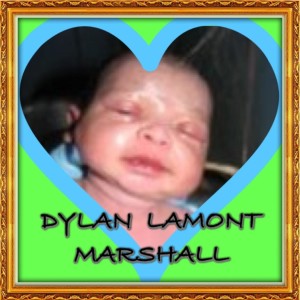 Dylan Lamont Marshall, departed this life on Wednesday, January 15, 2014 at University of Maryland Medical Center in Baltimore, Maryland.
He is survived by his parents, Derrick, Sr. and Latoria Marshall; one brother, Derrick Marshall, Jr.; two sisters, DeKerra and DeKayla Marshall; paternal grandparents, John Marshall and Patricia Roberts; maternal grandparents, Elwood Hemmeain and Alice Marshall; maternal great grandparents, Marie Cropper and Clinton Marshall; three aunts; five uncles; and a host of other relatives and friends.
A memorial service will be held 4:00 PM Saturday, January 25, 2014 at Mount Carmel Baptist Church, Princess Anne, Maryland.
Share a Memory or Thought