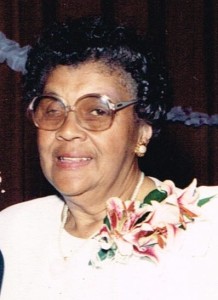 On Monday February 24, 2014, God in his infinite wisdom called Geraldine V. Waters, 92, of Pocomoke, Maryland to her eternal reward. She was born on November 5, 1921.  She was the daughter of the late Lloyd and Eva Cottman Smith. Shortly after her birth she went to live with and was raised by Sidney and Clara Dickerson.
She attended public schools in Somerset and Worcester Counties and graduated from high school in Worcester County.
On November 15, 1941, she was united in holy matrimony to Gentry H. Waters, Sr. To this marriage seven children were born. In addition to raising her own seven children she helped to raise five grandchildren, two goddaughters, and kept at least 30 other children in the community while their parents worked.
She was lovingly called "Big Mom" by many of the children in the Tindley Community. Adults often referred to her as "Sis." She was well known for her cooking, working word searches, and helping anyone she could.
Geraldine gave her life to Christ at an early age by becoming a member of Tindley Chapel Church. Upon the closure of Tindley's, Geraldine joined Mt. Zion United Methodist Church in Pocomoke City, Maryland. At Mt. Zion she was a member of the United Methodist Women, Tindley Committee and honored for the past 27 years as one of the Most Senior Members.
She leaves to cherish her memory: three sons, Robert B. (Josephine), Anthony K. and Ronald D. Waters; three daughters, Novella R. Dunlap, Kadovia J. Waters and Patricia W. Titus; five grandchildren: Vaughn, Darrell, Anita, William, and Alexander; two great grandchildren, Jalen and Collin; three brothers-in-law and one sister-in-law also share the loss of their loved one, namely, Martin Waters, Lewis Waters, Francis L. Jones, and Rhoda Cornish. Also left to share the loss are two daughters-in-law, Elsie Waters and Josephine Waters, and a host of nieces, nephews, cousins, and friends.
In addition to her parents, she was preceded in death by her  husband, Gentry H. Waters, Sr.; one son, Gentry H. Waters, Jr. and one sister, Marjorie A. Jones.
A Funeral Service will be held 1 PM, Saturday, March 1, 2014 at Mt. Zion United Methodist Church in Pocomoke City with a viewing two hours prior, Rev. William Miles will be the Eulogist.  There will also be a viewing held 6-8 PM, Friday, February 28, 2014 at the church.  Interment will be held at Tindley Memorial Park in Pocomoke.
One Response to "Geraldine Waters"
Share a Memory or Thought