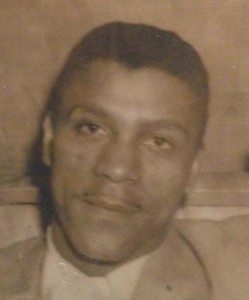 Lenwood Brittingham Ward was born June 15, 1930 in Whitestone, Virginia to the late Alex Brittingham and Blanche Smith. He was raised by his adoptive mother the late Laura Ward.  He departed this life on Tuesday, February 25, 2014 at his residence.
Lenwood served in the United States Army and was employed at the former Mrs. Paul's Kitchen until his retirement.
Lenwood was a very friendly person, you could always get a good hearty conversation out of him if you knew him well and he was always kidding and teasing.
It seemed he had his own Taxi Service because he would be seen carrying passengers all over town or anywhere they needed to go.  He would always be seen daily riding around town with his riding partner and his best friend, Linwood Lee and sometimes his other friend, Henry Fitchett, Sr. who was like a son to him.
He leaves to cherish fond memories, his devoted wife of 56 years, Ernestine Crandell-Ward; one daughter, Mrs. Lindsay Ward- Jackson (Devin) of Crisfield; one brother, Nicholas Henry; one sister Shirley Ann Miller, both of Whitestone, VA; one brother-in-law, Johnny Crandell (Irene); three sisters-in-law, Mrs. Lily McCready (George), Mrs. Mona Ballard (Wayne) and Ms. Betty Ann Coulbourne; nine grandchildren; several great-grandchildren and other relatives and friends.
In addition to his parents, Lenwood was preceded in death by one daughter, Cynthia Miles and seven siblings.  A funeral service will be held 11:00 AM, Saturday, March 15, 2014 at John Wesley United Methodist Church in Marion Station, with a viewing one hour prior, Rev. Arthur Crandell will be the Eulogist.  Interment private.
5 Responses to "Lenwood Ward"
Share a Memory or Thought