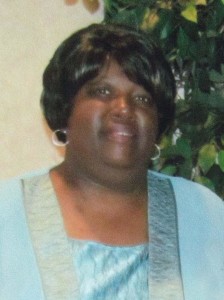 Roselyn Annette Collins Ball, 51, was called from labor to reward on Thursday, April 3, 2014 at 4:12 a.m. at the Coastal Hospice at the Lake in Salisbury, Maryland. She had courageously battled cancer for more than 4 years.  Roselyn was born on October 12, 1962 at the McCready Hospital in Crisfield, Maryland to Roselyn Elizabeth Whittington Collins and the late William Grant Collins.
She received her formal education in the Somerset County Public School System and graduated from Crisfield High School in 1980.  She continued her education at Howard University, University of Maryland Eastern Shore and the Medical College of Virginia where she discovered her passion and spiritual gift for helping others. She took her desire to work with others to the Somerset County Detention Center where she served as a Correctional Officer. In 2012 she was named Employee of the Year.  Roselyn retired in November 2013 after more than 25 years of service.  She never missed an opportunity to share her love of the Lord and to witness to everyone at the Center, both inmates and teammates, about the goodness of God.
"Nette", as she was affectionately called by family and friend was introduced to Christ at a very young age.  Her walk with God began at the knees of her maternal grandparents. "Grandfather" and "Grandmother", as she affectionately called them, loved her too. Grandfather gave her the name "Sweetsie". Grandfather would set her on his knee as they sang the Songs of Zion, and the old hymns that spoke of pain, suffering and God's steadfast love. These songs brought comfort to her during the many midnight hours of her journey.  She attended and participated in all of the church activities planned for the children.  Nette united with the John Wesley United Methodist Church and in spite of her illness remained a faithful member until GOD called her home. Her service epitomized her faith walk.
On May 22, 1993, Roselyn married the love of her life, Harrison Lee Ball, Jr.   Harrison and "Roz", as he affectionately called her, were blessed with more than 20 years of life together. To this union, one son, William Harrison Ball was born. He preceded them in death. Even as her health started to fail, Roselyn was not one to ask for help – instead she would always try to help others. When asked if she needed something, she would say, 'that's ok, Harrison will do it' – and he would.  He faithfully stayed by her side – he was her voice when she could not speak and always insisted she get the best care.   When he couldn't be with her, Harrison would pray to God to protect her, and God was faithful.  Harrison and "Roz" claimed every healing as a victory and gave God all the praise. 
Roselyn's gift of caring for others was evident in the love, caring and attention she gave her father and mother.  After her father died, she selflessly cared for her mother, even when they both were ill.  She shared this same gift with her sisters, Marshallyn and Marilyn and her brother, Jerome, as well.  She believed in family and loved everyone. 
Roselyn was a faithful member of John Wesley United Methodist Church and served as actively as she could despite her illness. She knew that despite the challenges she faced, she was blessed and always wanted to do whatever could be done to praise God's Name.  She loved John Wesley from the time she was born and when God called her to serve she answered, serving as Trustee, as Lay Speaker and as president of the Union Wesley Choir.  And she loved to sing with her choir– God gave her the strength to sing one last time with her choir the night before He took her home. 
Roselyn loved children and was the mother to many, taking the time to spoil, to discipline, and to love each one as though each was her own.  She believed that as Proverbs 22:6 (KJV) tells us, "Train up a child in the way he should go, even when he is old he will not depart from it."  On many a Sunday, she would hold a baby on her lap during church; during the week it would be another and on the weekend yet another child.  She would listen to each child and share the wisdom she has learned at her parents' and grandparents' knee.  While all were special to her, she held a special place in her heart for Diamond, Desire and Shande. 
Roselyn was surrounded by many loving family and friends.  They all meant so much to her in her final days.  She appreciated all of the kind words, acts of kindness and prayers for everyone and especially the time she spent with her cousin Taressa Green, her sister-in-law, Denise "Dee" Ball, and her best friend, Vanessa Ward.   
Roselyn leaves to mourn her loss, her beloved husband, Harrison of Princess Anne, MD; her mother, Roselyn Whittington Collins of Crisfield, MD; a step-son, Harrison, III; three sisters: Mary Collins of Crisfield, MD; Marshallyn Whittington and Marilyn Whittington of Mt. Rainier, MD; one brother Jerome William Collins of Crisfield, MD; three sisters-in-law, Terri Jones, and Denise "Dee" Ball of Crisfield, MD, and Roselee Collins of Orlando, FL, brother-in-law Joseph "Joe-Joe" Handy of Princess Anne, MD; five great-aunts: Cora Handy of Marion Station, MD, Alva Bell of Seaford, DE; Thelma Green, of Philadelphia, PA, Blanche Johnson, of Philadelphia, PA, Odessol Knight, Harrisburg, PA. Five aunts: Cora Brooks, Baltimore, MD, Jane Whittington, Philadelphia, PA, Helen Whittington Baltimore, MD, Cathaleen Whittington, Baltimore, MD; Maxine Swayne, Charlotte, NC;  and host of family and friends.
A funeral service will be held  12 PM, Saturday, April 12, 2014 at John Wesley United Methodist Church in Marion Station, with a viewing two hours prior.  Rev. Cynthia Bonneville will be the Eulogist. A viewing will also be held 6-8 PM, Friday, April 11, 2014 at the Church.  Interment John Wesley United Methodist Church Cemetery, in Marion Station.
3 Responses to "Roselyn A. Ball"
Share a Memory or Thought