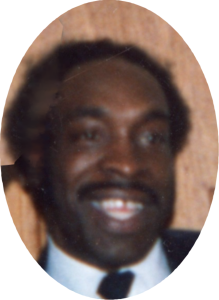 "I have finished the work which thou gavest me to do."          John 17:4b  
Irving Wayne Ballard, Sr., 63, of Crisfield (formerly of Princess Anne) departed this life Tuesday, April 8, 2014 at Peninsula Regional Medical Center in Salisbury, Maryland.  Born October 10, 1950, he was the son of the late Sherwood, Sr. and Catherine Ballard.
Irving received his education in the Somerset County Public Schools. He joined the United States Navy for a short tour of duty. Among his many accomplishments, he was an active member and advocate of community and public school activities. Irving worked diligently for many years as a laborer and truck driver until his health begin to fail.
Irving was a man who loved his family and wanted everyone to exceed and to do their best. He will be remembered for his special greeting, male or female, "Hey Boy"! Irving will truly be missed by all.
Irving leaves to cherish fond memories with his wife, Stacey Parks-Ballard; five daughters, Anita, Michelle, Nakia, T'Keria and Mashala; eight sons, Dana, Terrell, Timothy, Xavier, Irving, Jr., Saquille, Issiah and Jayden; three brothers, Johnnie Ballard of Princess Anne, Maryland, Sherman Stevenson and Sherwood Ballard (Cheryl) of Salisbury, Maryland; two sisters, Bernice Collins and Shirley Cottman of Princess Anne, Maryland; nineteen grandchildren; four great grandchildren; and a host of nephews, nieces, cousins and friends.
A funeral service will be held  11AM, Saturday, April 19, 2014 at Mt. Carmel Baptist Church in Princess Anne, Maryland, with a viewing one hour prior. Rev. Carroll Mills will be the Eulogist. A viewing will also be held 6-8 PM, Friday, April 18, 2014 at the Funeral Home in Princess Anne.  Interment will be 2:00 PM, Tuesday, April 22, 2014 at the Maryland Veterans Cemetery in Hurlock, Maryland.
3 Responses to "Irving Wayne Ballard, Sr."