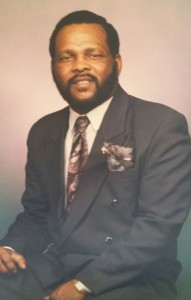 Edward James Jones was born March 12, 1942 in Worcester County, Maryland. He departed this earthly life on Thursday, June 12, 2014 at the Commonwealth Health and Rehabilitation Center in Fairfax, Virginia at the age of 72. "James" or "J.J." as he was affectionately known was born to the late John, Sr. and Martha Kelly-Jones.
He received his formal education in the Worcester County Public School System. James was employed by Metompkin Seafood Company in Crisfield, Maryland until he relocated to Woodbridge, Virginia in 1982. There he would gain employment with Fort Belvoir Commissary and the Southern Management.
On March 18, 1989 James married Linda A. Schoolfield and from this union one daughter was born.
James leaves to cherish his precious memories with his devoted wife, Linda; three sons, Kevin (Valerie) Styles, Marion Station, Maryland, Eric (Teina) Veney ,Glen Burnie, Maryland and Brian (Shawonda) Veney, Princess Anne, Maryland; three daughters, Mary Fontaine, Princess Anne, Maryland, Lorretta (Pete) Conwell, Pennsylvania and Sadeeka Schoolfield-Jones Woodbridge, Virginia; 21 grandchildren; 33 great grandchildren; one great-great grandchild; one brother, Robert Jones, Salisbury, Maryland ; four sisters, Annie Mae Jackson, Marion Station, Maryland, Mary Collins, Salisbury, Maryland , Henrietta (George) Smith, Harrisburg, Pennsylvania, Bessie Sterling, Crisfield, Maryland; a devoted nephew, Timothy Jones, Stafford, Virginia; mother-in-law, Mary Schoolfield, Pocomoke, Maryland; sister-in-law, Patricia (Keith) Scarville, Hackensack, New Jersey; and a host of other nephews, nieces, cousins and extended relatives and friends.
In addition to his parents, James was preceded in death by two daughters, Melinda Pittman and Karen Jones; three brothers, William, John "Buster", Jr. and Oliver Jones; five sisters, Edna Jones, Pauline Bloxom, Agnes Maddox, Loletha Armwood and Martha Geraldine Corbin.
A funeral service will be held  1PM, Saturday, June 21, 2014 at Highway Holiness Church in Crisfield, MD, with a viewing two hours prior.  Elder Noah Stewart will be the Eulogist.  A viewing will also be held 6-8PM, Friday, June 20, 2014 at the Church.  Interment will be in Waters Chapel U.M.C. Cemetery in Kingston, MD.
2 Responses to "Edward James Jones"
Share a Memory or Thought