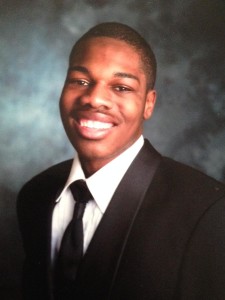 Rodney Elliott Stevenson, Jr. (also known as Newt-Newt), 25, of Salisbury, MD was born on February 12, 1989 in Salisbury, Maryland at Peninsula Regional Medical Center. He was the son of Marsha Lake and James W. Lake, III both of Salisbury and Rodney Stevenson, Sr. of Crisfield, Maryland. Rodney Stevenson, Jr. was called home on Monday, June 16, 2014.
Rodney Stevenson, Jr. graduated from Wicomico High School in Salisbury in June 2010. He worked various jobs in Salisbury starting in high school. He worked at Burger King and volunteered at Peninsula Regional Medical Center while attending Wicomico High School. In 2010, he began his time at Dove Pointe in Salisbury and through them worked at Salisbury University from 2011-2013.
Newt-Newt was a devoted son and brother, who loved life. He was warm-hearted and enjoyed interacting with people. He enjoyed listening to music and singing. He loved eating and sweets were his favorite. There was no food he didn't enjoy. In his spare time, he relaxed and helped his father, James in the yard. And he was always with his mother, no matter where she went.
Rodney leaves to cherish his loving memory: his Mother, Marsha Lake; his father, James Lake, III and his biological father, Rodney Stevenson, Sr.; five sisters, Charon Sterling, Chimere' Stevenson, Katrina Stevenson, Ashley Stevenson, and Eboni McCready; three brothers, Kevin Tyler, DelShaun Taylor and Jamel Whittington; one stepbrother, James W. Lake, IV; his grandparents, Lucille (Richard) Maddox of Marion, Alberta Lake of Delmar, DE, George Bowyer (step-grandfather); one godmother, Alfreda Johnson; nine uncles; seven aunts; a host of nephews, nieces, cousins, great aunts and uncles and friends.
Rodney was preceded in death by his grandfather's, John Cottman, James W. Lake, III and James Stevenson; one grandmother, Diane Bowyer; one stepsister, Denise Lake.
Rodney will be greatly missed for his personality and love of life and his devotion to his family.
A funeral service will be held  1PM, Saturday, June 28, 2014 at John Wesley United Methodist Church in Marion Station,  with a viewing two hours prior.  Rev. Cynthia Bonneville will be the Eulogist.  A viewing will also be held 6-8PM, Friday, June 27, 2014 at the Funeral Home in Crisfield.  Interment will be in Union Asbury Cemetery in Crisfield.
Share a Memory or Thought