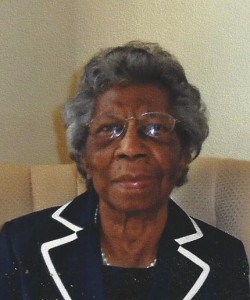 Sidney Luciel Turpin-Thomas, 98, the youngest daughter of the late Eben S. Turpin and Lucy Hayward-Turpin, was born in Somerset County, Westover, on September 24, 1915.  She departed this life early Friday morning, July 25, 2014, at Lakeside Assisted Living, in Salisbury, after a brief illness.
Sidney received her Christian education at John Wesley United Methodist Church, in Cottage Grove Maryland.  She attended elementary school and Greenwood High School in Somerset County.
In 1933, Sidney went to live with two of her older sisters in Harlem, New York, and continued her education.  She was an active member of the Canaan Baptist Church, where she taught Sunday school and was an usher.
In 1934 she met and married the late Carl C. Anderson.  Two children were born of that marriage, Shirley and Carl, Jr.
While raising two small children, Sidney continued her education by attending evening classes at Hunter College in New York City.
In 1944 she passed her first Civil Service examination for Laboratory Assistant with the New York City Health Department.  She took every promotional exam that came up, and retired from the NYC Health Department in 1972, as a Jr. Microbiologist, having spent several of those years in the serology laboratory.
In 1955, Sidney married her second husband, the late Louis Thomas.
After retirement, Sidney enrolled in the Adult Accelerated College program at the College of New Rochelle, NY, and received her BA degree in May of 1981, a goal she had set many years before.  Satisfied that she had finally earned a degree at age 65, she focused on helping others improve their education.   She joined the Literacy Volunteers of America and worked as a literacy volunteer at the Brooklyn Public Library until 1985, when she returned home to Princess Anne, with her sister, the late Beatrice West.
Once again Sidney became involved in volunteering, working with the literacy program at Princess Anne Library, and also at the Seton Center with the food pantry.  She resumed her membership in John Wesley United Methodist Church, and became very active there.  She was a representative in the Peninsula-Delaware Conference, and a certified lay speaker.  At one time she was the church treasurer.
Sidney had many interests and hobbies, including a love of Broadway theatre; travel, both international and domestic.   She enjoyed her church activities, reading, doing crossword puzzles, knitting, crocheting, and gardening.  She adored her grandchildren, who all have fond memories of spending weekends and extended time during summer breaks to visit in Brooklyn and Maryland.  She instilled in all of them a strong sense of self, both by action and example.
Sidney's legacy will be one of helping and caring for family, friends, neighbors, and touching the lives of those she helped to read.
The last of seven siblings, Sidney leaves to cherish her memories, a daughter, Shirley Anderson Bailey of Salisbury; a son, Carl Anderson, Jr., of Princess Anne; four grandchildren, Pamela Bailey of Charlotte, NC; Phillip Bailey of Hempstead, NY; Kenneth Anderson of New York, Vincent Anderson of New York; two great grandchildren; Spc4 Idris Bailey of Fort Benning, GA and Troia Morgan of Dudley, NC.
Funeral services will be held at John Wesley United Methodist Church, 31361 Curtis Chapel Road, (Off of Route 13) Westover, MD  on Saturday, August 2, 2014, at 11AM, with a viewing one hour prior. Interment will be in the Church Cemetery.
In lieu of flowers, the family requests that donations be made to the Alzheimer's Association in memory of Sidney L.  Thomas.
Share a Memory or Thought