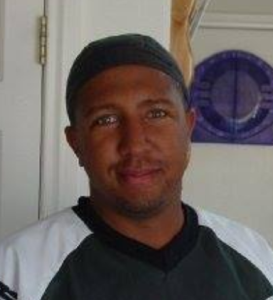 Perry Joseph Horsey "PJ", 50, of North Las Vegas, Nevada formerly of Marion Station, Maryland departed this life Monday, August 4, 2014 after a brief illness. He was born on February 17, 1964 to the late Charles Perry Horsey, Jr. and Theola Horsey Rodriguez.
"PJ" as he was affectionately called received his formal education in the Somerset County Public School System; He graduated from Crisfield High School in 1982.  Upon graduating from high school he served in the United States Marine Corps.  Following his discharge he moved to Santa Ana, California and then later moved to Las Vegas where he called this home. Perry was employed by SAFE Electronics in Las Vegas, Nevada.
Loving memories of  "PJ" will remain with his Mother and Stepfather, Theola and Bishop Salvador Rodriguez of Marion; two sisters, Vonceal Urquheart (Antonio) and Perri Horsey, both of Salisbury; five nieces, Sharonne Tilghman of Princess Anne, Donita Barkley (Lamont), Yolanda Jones (Lamar), Aayana Horsey and Shekinah Urquheart, all of Salisbury; three nephews, Antonio and Javon Urquheart and Aayanta Horsey, all of Salisbury; three great nieces, Laynea and Iyah Barkley and Amara Jones; two great nephews, Lamar and Khalil Jones, all of Salisbury; five aunts, Charmaine, Marida, Barbara, Sarah and Lena; four uncles, James Anthony, Ronald, Donald and Stanford; four great aunts, Iris, Naomi, Lilly, Magnolia and Alice; two great uncles, Thomas and James; an abundance of cousins and friends; special friends, Robert Miller, Kevin Styles, Terry Whittington, Cassandra Price and Carmel Brooks.
"PJ" was preceded in death by his father, Charles Perry Horsey, Jr., a sister, Lorna Horsey; his maternal grandmother, Gertrude Archie, his maternal grandfather, Beryl Whittington, Sr., his paternal grandmother, Magdalene Carter, his paternal grandfather, Charles Perry Horsey, Sr.
You always believed in the person I was becoming, even when it was less than easy.  You helped me see my own uniqueness even when I didn't see it in myself,
and you taught me that life is still beautiful even when it isn't simple.
A funeral service will be held 1:00 PM Saturday, August 16, 2014 at Highway Holiness church in Crisfield.  Pastor Dorothy Holden will be the eulogist.  Interment will be at John Wesley U.M.C. Cemetery in Marion Station.
15 Responses to "Perry Joseph Horsey"