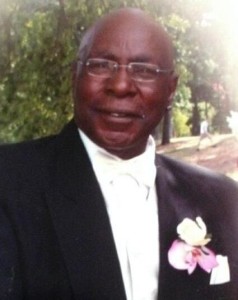 William Henry Horsey Jr. 69, of Crisfield, MD, departed this life on Monday August 25, 2014 at his home in Crisfield. He was born on May 25, 1945 to the late William Henry Sr. and Edith Torney-Horsey. "Pop" as he was known by many was the second born of seven.
Pop received his education in the public school system of Somerset County, MD. His employment history consisted of Mrs. Pauls' Kitchen, the seafood industry, J & D Landscaping, driving trucks, Security, and worked for the City of Crisfield.
"Pop" was a member of Shiloh United Methodist Church where he was also a member of the Methodist men.  For the past several years, he would attend John Wesley United Methodist Church in Marion Station MD. He also participated in Bible Study under the leadership of Pastor Donald Lawson. "Pop" was a longtime member of his beloved Crisfield Pride Lodge #194, in which he held many offices, and sang with the Elks Choir.
In "Pop's" earlier years, he loved to play baseball and was an avid runner. Later in his life his love of the computer consumed much of his time, when he wasn't telling stories of his younger years. Pop sure will be missed, greatly missed, by his family and all of his friends.
He leaves to cherish wonderful memories with four sons, Terry White of Crisfield, MD, William Anthony Horsey (Teresa) of Princess Anne, MD, Joshua and Michael Horsey (Sarah) of Crisfield, MD; one daughter, Kimbley Abbott (Arthur, Jr.) of Crisfield, MD; his companion of 26 years, Vanessa Parks of Crisfield, MD; eight grandchildren, Gereka, Te'Ona, William, E'N, Toni, Josh, Abygail, Jayanna; three great-grandchildren, Ja'Kayla, Jazmyne, Darius (Lil Homey); one son-in-law, Wilson Dix; two brothers,  Major Horsey (Geraldine) of Pomfret, MD and Layman Horsey (Mona Lisa) of Fayetville, NC; three sisters, Levitha Lawson (Donald), Edith Bishop (Russell) all of Marion, MD and Betty Horsey of Crisfield, MD and a host of nephews, nieces, cousins and friends.
In addition to his parents, "Pop" was preceded in death by one daughter, Gladys Lorraine Christy-Dix and one sister, Shirelene Y. Collins (Sug).
A funeral service will be held 1:00 PM Saturday, September 6, 2014 at John Wesley United Methodist Church in Marion Station with a viewing two hours prior.  Rev. Cynthia Bonneville will be the the Eulogist.  A viewing will also be held 6:00 PM- 8:00 PM Friday, September 5, 2014 at the church.  Interment will be in Hopewell Cemetery in Crisfield.
One Response to "William Henry "Pop" Horsey, Jr."
Share a Memory or Thought