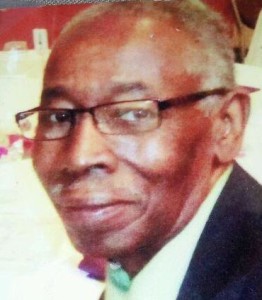 …the beginning and the end… William Moore Bivens, Sr., son of the late John and Ardella Bivens was born on March 6, 1941 in Baltimore, Maryland. He was the youngest of fourteen children.  William heard his Father God call his name on Monday night, October 6, 2014 at the Coastal Hospice at the Lake in Salisbury, MD, to come and rest with Him, and be at eternal peace. His journey was complete.  In addition to his parents, he was preceded in death by his son, Michael E. Bivens; two brothers, George and James Bivens and three sisters, Pauline Stevenson, Patricia Frank and Bernice Henderson.
William received his education at Carter G. Woodson School in Crisfield, MD.  His adult career began in the United States Marine Corps and he was honorably discharged as a Staff Sergeant once his term was complete.  While enlisted, he also began working in the Postal Department.  Upon his return to his home of Marion, Maryland, he began working at the Post Office in Pocomoke, MD, and was a postal carrier for many years.  After proving himself to be a diligent and hard worker, he earned his due reward and was promoted to the position of the first African American Postmaster in Somerset County.  He continued to show his love for people after his retirement from the Post Office and began driving the Head Start school bus in the northern end of Somerset County.  He then became a substitute driver and was later hired as a school bus contractor.  When he became ill, he had to retire from the job that he loved to do.  He was very well liked by students, parents, and colleagues.
William was a member of the Union Lodge #33 of Crisfield, MD, where he served for several years as Worshipful Master, Secretary, Past Master and other offices.  He was also a member of the Most Worshipful Prince Hall Grand Lodge of Maryland; served as a Grand Lodge Officer; also served as Past Assistant District Deputy, Grand Secretary for the 9th Masonic District was a member of King David Consistory #284 in Salisbury, MD and served as a Past 1st Lieutenant.  He was a very dedicated member of this organization.
William was raised in a Christian home with spiritual teachings led by his parents and eventually became "saved" to do the work of serving God and Him only.  He joined Ebenezer United Methodist Church and served as a Trustee, Lay Minister, Lay Leader, a member of PPRC, and a devoted member of the Men's and Combined Choirs.  His last appointment was the Chairperson of the Administrative Board until his health began to fail.  William truly loved the Lord and his church.
On June 24, 1989 at Ebenezer U.M. Church, William was joined in holy wedlock to Mary Bacon of Crisfield, MD, and this past June they were blessed to celebrate their 25th wedding anniversary.  They were truly a match blessed by God and always put God first in their marriage.  William was an excellent cook, and a jack-of-all-trades around the house.  He loved to sing and some of his favorite hymns were:  "Jesus Lover of My Soul", "Jesus How I Love Calling Your Name", "Amazing Grace", and "I'll Make It Somehow".  Whenever you saw William, you always saw a "Bright Welcoming Smile", even sometimes when he wasn't feeling well, but you would never guess that he was ill.  He was a blessing from God and will truly be missed.
He leaves to cherish many wonderful memories with his loving and devoted wife, Mary; four sons, William M. "Bill" Bivens, Jr. of Salisbury, MD, Raymond and Michael Hall of Crisfield, MD and Anthony Hall of Hagerstown, MD; four grandchildren; one great grand child; five brothers, John S. Bivens (Alice) of Philadelphia, PA, Frederick Bivens of Pocomoke, MD,   Wallace Bivens of Salisbury, MD,  Clarence Bivens of Georgia and Theodore Bivens of Crisfield, MD; three sisters, Mollie Harris of Brooklyn, NY, Della Bivens of Gaithersburg, MD and Louise Ward of Crisfield, MD;  one special goddaughter, Valerie Burgess-Anderson (David) of Waldorf, MD; one special godson and great nephew, Tremayne Waters, Jr.; two sisters-in-love, Bernita Evans-Brown (Alonzo) of Salisbury, MD, and Francena Turpin of  Philadelphia, PA; three brothers-in-love, Joseph Bacon (Ophelia) of Fort Worth, TX; William Evans, IV of Salisbury, MD and Harry Evans of Boston, MA;  two devoted nephews, Troy "Bo-Duke" Ward (Patsy) of Crisfield and Robert Lewis Bivens of Wilmington, DE;   a loving mother and father in-love, Joshua and Lorraine Cottman; and a special cousin, brother and best friend, Rev. C. Thomas Fitchett, Jr. (Frances) as well as a multitude of other nephews, nieces, great nephews and nieces; great-great nephews and nieces, cousins, other relatives and friends.
A funeral service will be held 1 PM Saturday, October 18, 2014 at Crisfield High School with a viewing two hours prior. Rev. Alexenia Seldon will be the Eulogist.  A viewing will also be held 6:00 – 8:00 PM, Friday, October 17, 2014 at Ebenezer United Methodist Church in Marumsco, Maryland where Masonic Services will commence at 7:00 PM.  Interment will be at Ebenezer United Methodist Church Cemetery.
6 Responses to "William Moore Bivens, Sr."