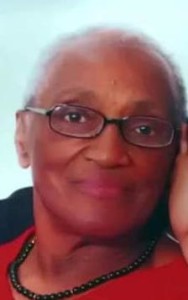 Geneva Mae Holmes, 78 of Princess Anne, Maryland departed this life Saturday, November 29, 2014 at Costal Hospice at the Lake in Salisbury, Maryland. She was born March 11, 1936 in Venton, Maryland.  She was the daughter of the late Elijah, Sr. and Gertrude Bounds-Holbrook.
Geneva was educated in the Somerset County Public Schools and was employed at Perdue Farms, Inc. in Salisbury, and retired with more than thirty five years of service. She was a faithful member of Metropolitan United Methodist Church in Princess Anne.
She leaves to cherish to cherish wonderful memories with six sons: Rena (Angie), Timothy Esau, Sr., Bruce, Terry and Ross Holbrook and William Boynton, Sr. (Linda); two daughters, Connie Ward and Marsha Holbrook; several grandchildren, great grandchildren and great- great grandchildren; three special friends, Loretta Collier, Catherine Smith and Betty Fooks; one nephew that was raised like a son, Omar Spence and a host of nephews, nieces, other relatives and friends.
In addition to her parents, she was preceded in death by her husband, Walter Holmes, two sons, Ray and Carlye Holbrook; four brothers, Elijah, Jr., Allen, George and Morris Holbrook; three sisters, Nellie Smith, Bessie Waters and Madeline Spence.
A funeral service will be held 1 PM Saturday, December 6, 2014 at Washington High School, 10902 Old Princess Anne Rd, Princess Anne with a viewing one hour prior.  Rev. Carroll Mills will be Officiating and Rev. Ronald Bell will be the Eulogist. A viewing will also be held 6-8 PM Friday, December 5, 2014 at Metropolitan United Methodist Church in Princess Anne. Interment will be in Grace Cemetery in Venton.
One Response to "Geneva M. Holmes"
Share a Memory or Thought